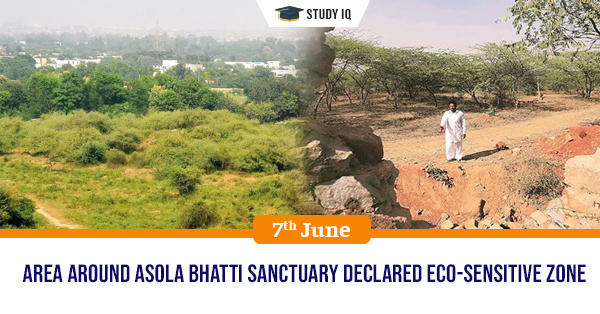 Area around Asola Bhatti sanctuary declared eco-sensitive zone
Date: 07 June 2019
Tags: National Park and Wildlife Sanctuary
Union Ministry of Environment, Forests and Climate Change (MoEFCC) has issued notification declaring the area around the boundary of Asola Bhatti Wildlife Sanctuary an Eco-Sensitive Zone (ESZ). This prohibits activities such as commercial mining, setting up of industries, and establishment of major hydro-electric projects. However, this notification, allows commercial establishment of hotels and resorts and construction activities, but makes it more regulated in area varying from 100-1,000 metres around the boundary of sanctuary.
Asola Bhatti Wildlife Sanctuary
It is located on Southern Delhi Ridge of Aravalli hill range on Delhi-Haryana border. It spreads over Southern Delhi as well as northern parts of Faridabad and Gurugram districts of Haryana state. Its name is derived from contiguous Asola village in Delhi.
It is part of Northern Aravalli leopard wildlife corridor, an important wildlife corridor which starts from Sariska National Park in Rajasthan, passes through Nuh, Faridabad and Gurugram districts of Haryana and ends at Delhi Ridge.
Its protected area contains one of last surviving remnants of Delhi Ridge hill range and its semi-arid forest habitat and its dependent wildlife. Historical place around iy are Surajkund and Anangpur Dam (both in Haryana), Tughlaqabad Fort and Adilabad ruins (both in Delhi), Chhatarpur Temple (in Delhi).
Eco-sensitive zones
They are areas notified by Union Ministry of Environment, Forests and Climate Change (MoEFCC), around protected areas , national parks and wildlife sanctuaries.
The purpose of declaring ESZs is to create some kind of "shock absorbers" to protected areas by regulating and managing the activities around such areas. They also act as transition zone from areas of high protection to areas involving lesser protection.
Union government (MoEFCC) is empowered to declare eco-sensitive zones under Environment Protection Act, 1986. However this Act, does not explicitly mentions eco-sensitive zones. But there are following provisions under the act
Section 3(2)(v) of the EP Act, 1986

: It empowers Central Government to restrict areas in which any industries, operations or processes shall not be carried out or shall be carried out subject to certain safeguards.

Section 5 (1)

: It empowers central government to prohibit or restrict location of industries and carrying on certain operations or processes on basis of considerations like biodiversity of area, maximum allowable limits of concentration of pollutants for area, environmentally compatible land use, and proximity to protected areas.
Based on these provisions MoEFCC has put in place comprehensive set of guidelines laying down parameters and criteria for declaring eco-sensitive zones.