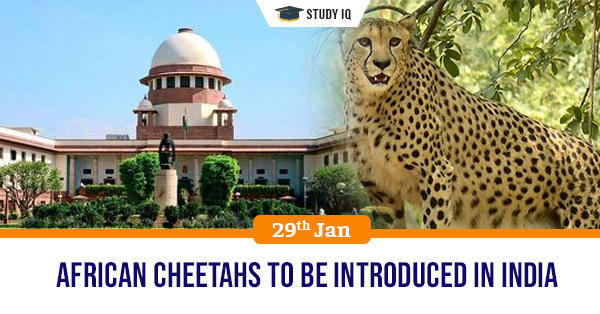 African Cheetahs to be introduced in India
Date: 29 January 2020
Tags: National Park and Wildlife Sanctuary
Issue
The Supreme Court has allowed the Centre to reintroduce the African cheetah to a suitable habitat in India. Reintroduction of a species means releasing it in an area where it is capable of surviving.
Background
With India's own cheetahs vanishing, a plea for this had been filed by the National Tiger Conservation Authority (NTCA), seeking permission to introduce the African cheetah from Namibia.
Details
In May 2012, the apex court had stalled the plan to initiate the foreign cheetahs into the Palpur Kuno sanctuary in Madhya Pradesh fearing they may come into conflict with a parallel and a much-delayed project to reintroduce lions into the same sanctuary.

The court was also worried whether the African cheetahs would find the sanctuary a favourable climate as far as abundance of prey is concerned.

For now, the animals will be brought in on an experimental basis to see if they can adapt to Indian conditions.

Before Namibia, India had approached Iran for Asiatic cheetahs, but had been refused. The Asiatic cheetah is classified as a "critically endangered" species by the IUCN Red List, and is believed to survive only in Iran.

Reintroductions of large carnivores have increasingly been recognised as a strategy to conserve threatened species and restore ecosystem functions.
Palpur Kino National Park
Kuno National Park is a protected area in Madhya Pradesh in the Sheopur and Morena districts. It is part of the Kathiawar-Gir dry deciduous forests ecoregion.

It was selected as a possible site to implement the Asiatic Lion Reintroduction Project, which aimed at establishing a second lion population in India.

Kuno Wildlife Sanctuary was also proposed as a possible site for Cheetah reintroduction in India.

Most of the original inhabitants of the designated park area were the Saharia tribal people.

The vegetation of the protected area includes Anogeissus pendula forest and scrub, Boswellia and Butea forest, dry savanna forest and grassland and tropical riverine forest.