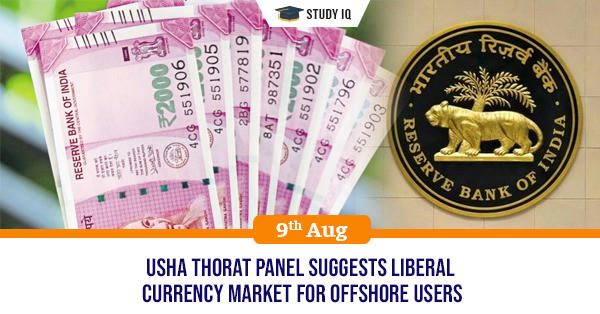 Usha Thorat panel suggests liberal currency market for offshore users
Date: 09 August 2019
Tags: Monetary Policy & RBI
Context: The task force on offshore rupee markets, headed by former Dy. Governor Usha Thorat, has submitted its report to the RBI
Recommendations:
It has suggested for extending trading hours to improve access of overseas users and allowing Indian banks to freely offer prices to global clients around the clock.
Allow users to undertake foreign exchange transactions up to $ 100 million in OTC currency derivative market without the need to establish underlying exposure.
Enable rupee derivatives (settled in foreign currency) to be traded in the International Financial Services Centres (IFSC) in India.
To facilitate non-residents to hedge their foreign exchange exposure onshore, the task force recommended establishing a central clearing and settlement mechanism for non-resident transactions in the onshore market.
Align the tax treatment with global standard
Significance of the off shore rupee market:
The offshore rupee market has been making a larger impact on the local currency market helping with better price discovery and driving volatility, prompting RBI to look for ways to ensure greater stability for the rupee.