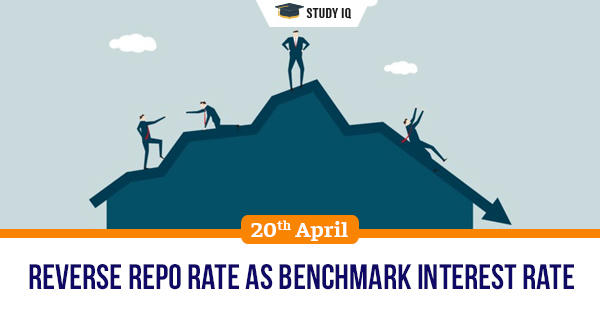 Reverse repo rate as benchmark interest rate
Date: 20 April 2020
Tags: Monetary Policy & RBI
Issue
unlike in the past, when the RBI used its repo rate as the main instrument to tweak the interest rates, today, it is the reverse repo rate that is effectively setting the benchmark.
Background
The Indian economy's slowdown during 2018 and 2019 is becoming much worse in 2020 with the spread of COVID-19 and the stalling of almost all economic activity. Like most other central banks in the world, the Reserve Bank of India, too, has tried to cut interest rates to boost the economy.
Details
The repo rate is the rate at which the RBI lends money to the banking system (or banks) for short durations. The reverse repo rate is the rate at which banks can park their money with the RBI.

With both kinds of repo, which is short for repurchase agreement, transactions happen via bonds, one party sells bonds to the other with the promise to buy them back (or repurchase them) at a later specified date.

Under normal circumstances, that is when the economy is growing, the repo rate is the benchmark interest rate in the economy because it is the lowest rate of interest at which funds can be borrowed.

It forms the floor rate for all other interest rates in the economy — for instance, the interest rate consumers would have to pay on a car loan or the interest rate they will earn from a fixed deposit etc.

Over the last couple of years, India's economic growth has decelerated sharply. This has happened for a variety of reasons and has essentially manifested in lower consumer demand.

As such, the banking system is now flush with liquidity for two broad reasons: on the one hand, the RBI is cutting repo rates and other policy variables like the Cash Reserve Ratio to release additional and cheaper funds into the banking system so that banks could lend.

The excess liquidity in the banking system has meant that during March and the first half of April, banks have been using only the reverse repo (to park funds with the RBI) instead of the repo (to borrow funds). In other words, the reverse repo rate has become the most influential rate in the economy.

The idea is to make it less attractive for banks to do nothing with their funds because their doing so hurts the economy and starves the businesses that genuinely need funds.

It all depends on the revival of consumer demand in India. If the disruptions induced by the outbreak of novel coronavirus disease continue for a long time, consumer demand, which was already quite weak, is likely to stay muted and businesses would feel no need to borrow heavily to make fresh investments.

It is also important for banks to be confident about new loans not turning into NPAs, and adding to their already high levels of bad loans. Until banks feel confident about the prospects of an economic turnaround, cuts in reverse repo rates may have little impact.