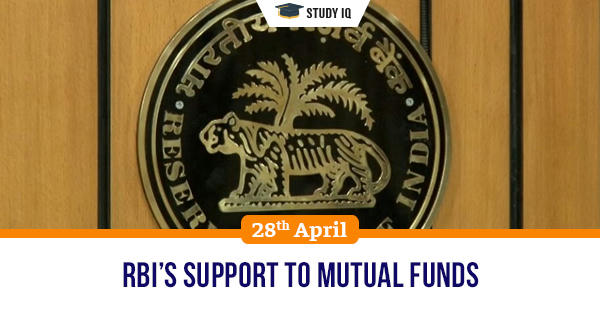 RBI's support to mutual funds
Date: 28 April 2020
Tags: Monetary Policy & RBI
Issue
The Reserve Bank of India (RBI) announced a special liquidity window of Rs 50, 000 crore to bail out mutual funds hit by the turmoil in the debt fund segment that led to the closure of six credit risk funds by Franklin Templeton Mutual Fund.
Background
Heightened volatility in capital markets in reaction to Covid-19 has imposed liquidity strains on mutual funds which have intensified in the wake of redemption pressures related to closure of six debt schemes of Franklin Templeton and potential contagious effects.
Details
Under the special liquidity facility for mutual funds (SLF-MF), the RBI will conduct repo operations of 90 days tenor at the fixed repo rate.

The SLF-MF is on-tap and open-ended, and banks can submit their bids to avail the funding till May 11 or up to utilization of the allocated amount, whichever is earlier.

Funds availed under the SLF-MF will be used by banks exclusively for meeting the liquidity requirements of MFs.

Banks can extend loans to mutual funds and undertake the outright purchase of and/or repos against the collateral of investment grade corporate bonds, commercial papers (CPs), debentures and certificates of Deposit (CDs) held by MFs.

The RBI's liquidity offer is expected to bring some degree of comfort in the debt market which is under huge redemption pressure, especially in the credit risk fund category which has assets of over Rs 55,000 crore. The debt segment has witnessed outflows of Rs 1.94 lakh crore in the month of March.

The RBI says exposures under this facility will not be reckoned under the Large Exposure Framework (LEF), thereby giving greater comfort for bank to borrow under this window. The support extended to MFs under the SLF-MF will be exempted from banks' capital market exposure limits.