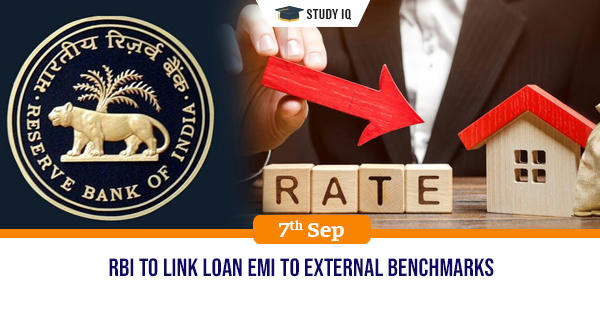 RBI to link loan EMI to external benchmarks
Date: 07 September 2019
Tags: Monetary Policy & RBI
Issue
The Reserve Bank of India (RBI) on Wednesday made it mandatory for banks to link all their fresh retail loans to an external benchmark, effective October 1 , the central bank's repo rate being one such benchmark.
Background
When the borrower stops paying interest or principal on a loan, the lender will lose money. Such a loan is known as Non-Performing Asset (NPA). Indian Banking industry is seriously affected by Non-Performing Assets. This move is expected to reduce credit risk effectively.
Details
The state-run banks have introduced repo-linked products for floating-rate home and auto loans, but the RBI said loans to micro, small and medium enterprises (MSMEs) should also be linked to an external benchmark.

The three external benchmarks the RBI proposed are policy repo rate, the Government of India's three-month and six-month treasury bill yields published by Financial Benchmarks India Private (FBIL), or any other benchmark market interest rate published by FBIL.

The central bank amended its master directions on interest rate on advances too, reflecting the changes.Some banks do calculate their marginal cost of funds-based lending rate (MCLR) based on the three- and six-month treasury bills.

The RBI has been observing that due to various reasons, the transmission of policy rate changes to the lending rate of banks under the current MCLR framework has not been satisfactory.

Banks are free to decide the spread over the external benchmark. However, credit risk premium may undergo change only when borrower's credit assessment undergoes a substantial change, as agreed upon in the loan contract.

Other components of spread, including operating cost, could be altered once in three years. The interest rate under external benchmark should be reset at least once in three months.