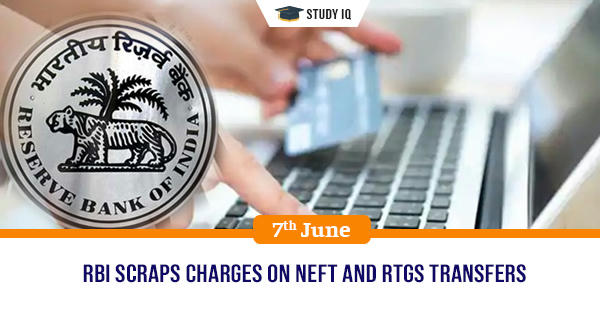 RBI scraps charges on NEFT and RTGS Transfers
Date: 07 June 2019
Tags: Monetary Policy & RBI, Banking Schemes & Policies
Reserve Bank of India (RBI) has announced waiving off charges are applied on bank transfers carried out either by National Electronic Funds Transfer (NEFT) or Real Time Gross Settlement System (RTGS). This decision was taken to boost digital transactions and asked banks to pass on the benefits to customers.
NEFT and RTGS
RTGS and NEFT are bank transfer devices that allows individual to transfer funds electronically from one account to another. RTGS is meant for large-value instantaneous fund transfers while NEFT System is used for fund transfers up to Rs 2 lakh.

RTGS transactions happen in real time, hence the beneficiary bank receives instruction to transfer funds immediately and transfer is instantaneous. Whereas, NEFT settlements happen in batches, as a result, there might be slight delay for actual transfer to take place from time the request for transfer.

The minimum amount that can be remitted through RTGS is Rs 2 lakh, and there is no upper ceiling. In NEFT there is no minimum transfer limit, but there is Rs 10 lakh limit per transaction with no upper limit on the number of transactions.