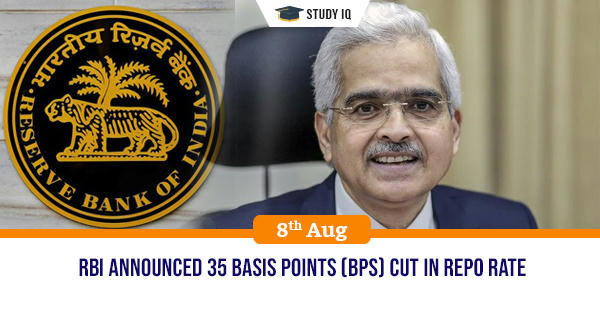 RBI announced 35 basis points (bps) cut in repo rate
Date: 08 August 2019
Tags: Monetary Policy & RBI
Context:
RBI has cut the repo rate by 35 basis points (bps), to 5.4%. This is fourth time in a row that the central bank has cut the key rate this calendar year, starting from February, 2019.
What is repo rate?
Repo and Reverse repo are short for repurchase agreements between the RBI and the commercial banks in the economy. In essence, the repo rate is the interest rate that the RBI charges a commercial bank when it borrows money from the RBI.
Implications of rate cut: It influences the interest rate in the economy. As such, if the repo falls, all interest rates in the economy should fall. And that is why common people should be interested in the RBI's monetary policy.
For borrowers: A reduction in lending rates in the economy will clearly benefit loan takers as borrowers' EMIs (equated monthly installments) are likely to go down assuming banks will pass on the benefit of the rate cut.
For depositors: Deposits rates will also go down, thus it will hit the depositors.
Does every cut in repo rate signify a reduction in interest rate?
In the real world, the "transmission" of an interest rate cut (or increase) is not 100%. And that is why, even though when the RBI cut by 35 bps on Wednesday (7/08/2019), lay consumers may only receive a much lower reduction in the interest rate on their borrowings.
Why rate cut by the RBI is not transmitted by the banks to their customers?
This is due to a lot of factors — but primarily, it has to do with the health of the concerned commercial bank. Over the past few years, almost all banks, especially the ones in the public sector, have seen their profits plummet because many of their past loans have turned out to be non-performing assets.
To cover for these losses, the banks have to use their existing funds, which would have otherwise gone to common consumers for fresh loans.
Will the rate cut bring investments?
Investments depend essentially on the "real" interest rate. The real interest rate is the difference between the repo rate and retail inflation. As a variable, it allows an investor to compare the attractiveness of different economies.
Real interest rates in India have been rising, and that is one of the biggest reasons why investments are not happening.
The recent rate cut would reduce the real interest rate and hopefully attract more investment.