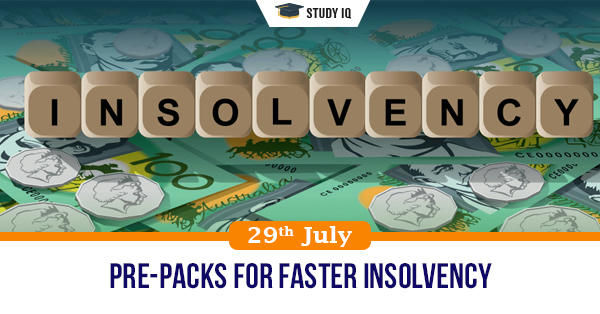 Pre-packs for faster insolvency
Date: 29 July 2020
Tags: Monetary Policy & RBI
Issue
The Ministry of Corporate Affairs (MCA) has set up a committee to look into the possibility of including what are called "pre-packs" under the current insolvency regime to offer faster insolvency resolution.
Background
Slow progress in the resolution of distressed companies has been one of the key issues raised by creditors regarding the Corporate Insolvency Resolution Process.
Details
A pre-pack is an agreement for the resolution of the debt of a distressed company through an agreement between secured creditors and investors instead of a public bidding process.

This system of insolvency proceedings has become an increasingly popular mechanism for insolvency resolution in the UK and Europe over the past decade.

In India's case, such a system would likely require that financial creditors agree on terms with potential investors and seek approval of the resolution plan from the National Company Law Tribunal (NCLT).

This process would likely be completed much faster than the traditional CIRP which requires that the creditors of the distressed company allow for an open auction for qualified investors to bid for the distressed company.

The pre-pack would act as an important alternative resolution mechanism to the CIRP and would help lower the burden on the NCLTs.

In the case of pre-packs, the incumbent management retains control of the company until a final agreement is reached.

The transfer of control from the incumbent management to an insolvency professional as is the case in the CIRP leads to disruptions in the business and loss of some high-quality human resources and asset value.
Drawbacks of pre-packaged insolvency method
The key drawback of a pre-packaged insolvency resolution is the reduced transparency compared to the CIRP as financial creditors would reach an agreement with a potential investor privately and not through an open bidding process.

This could lead to stakeholders such as operational creditors raising issues of fair treatment when financial creditors reach agreements to reduce the liabilities of the distressed company.

Unlike in the case of a full-fledged CIRP which allows for price discovery, in the case of a pre-pack, the NCLT would only be able to evaluate a resolution plan based on submissions by the creditors and the investor.