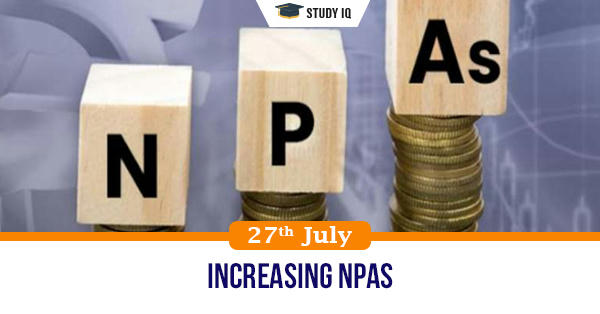 Increasing NPAs
Date: 27 July 2020
Tags: Monetary Policy & RBI
Issue
The gross non-performing asset (NPA) ratio of all commercial banks is likely to increase from 8.5 percent in March 2020 to 12.5 percent by March 2021 under the baseline scenario in the wake of the disruption caused by the Covid-19 pandemic, according to the Reserve Bank of India (RBI).
Background
According to the RBI, nearly 50 percent of the customers, accounting for around half of outstanding bank loans, opted to avail the benefit of the relief measures, loan moratorium, to tackle the lockdown impact.
Details
Among the bank groups, the GNPA ratio of public sector banks may increase from 11.3 percent in March 2020 to 15.2 percent by March 2021 under the baseline scenario.

Sectorally, the quality of bank loans to the services sector worsened in March 2020. The GNPA ratio of the retail loan sector also edged up.

Among major sub-sectors within the industry, NPA ratios in respect of construction and gems and jewellery sectors swelled up in March 2020.

On the other hand, the infrastructure sector (with a share of 36.2 percent in bank credit to the industrial sector), basic metals (11.3 percent), and electricity (17.5 percent) have shown a perceptible decline in NPA ratios.

The central government finances are likely to suffer some deterioration in 2020-21, with fiscal revenues badly hit by COVID-19-related disruptions even as expenditures come under strain on account of the fiscal stimulus.

For State finances, the additional burden of lower federal transfers may accentuate downside risks to the outlook.

Bank credit, which had considerably weakened during the first half of 2019-20, slid down further in the subsequent period with the moderation becoming broad-based across bank groups.

The capital to risk-weighted assets ratio of commercial banks edged down to 14.8 per cent in March 2020 from 15 percent in September 2019, while their GNPA ratio declined to 8.5 percent from 9.3 percent and the provision coverage ratio PCR improved to 65.4 per cent from 61.6 percent over this period.