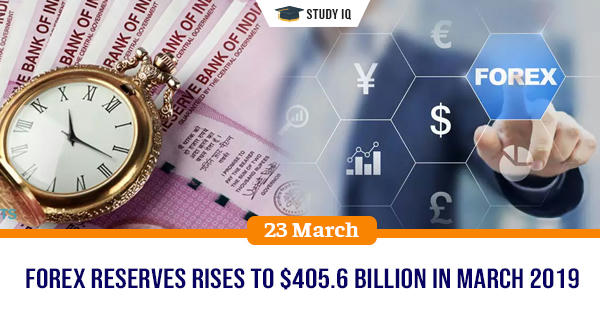 Forex reserves rises to $405.6 billion in March 2019
Date: 23 March 2019
Tags: Monetary Policy & RBI
According to the Reserve Bank of India (RBI), India's foreign exchange (forex) reserves surged by $3.602 billion to $405.638 billion in week to March 15, 2019. The surge was driven by rise in foreign currency assets, a major component of the overall reserves.
Reasons for increase
The increase in forex reserves could partly be attributed to rising investments by foreign investors in Indian capital markets. The net foreign portfolio investment (FPI) in equity markets in till March 15, 2019 was $2.9 billion, highest since January 2018. Indian debt markets also have seen positive inflow of $1.2 billion till March 15, 2019.
Forex Reserves in March 2019
Foreign currency assets (FCA):

Increased by $3.546 billion to $377.773 billion.

Gold reserves: It rose by $38.9 million to $23.408 billion.

Special drawing rights (SDRs) with International Monetary Fund (IMF):

It rose by $5.9 million to $1.461 billion.

RBI's reserve position with IMF:

It increased by $12.1 million to $2.995 billion.
Forex Reserves
They are reserve assets held by central bank of the country in foreign currencies. These reserve acts as buffer to be used in challenging times. They are also used as back liabilities and also to influence monetary policy. Almost all countries in world, regardless of size of their economy, hold significant forex reserves.
Components of India's FOREX Reserves: Foreign currency assets (FCAs), Special Drawing Rights (SDRs), Gold Reserves and RBI's Reserve position with International Monetary Fund (IMF). FCAs constitute largest component of India's forex Reserves and is expressed in terms of US dollars.