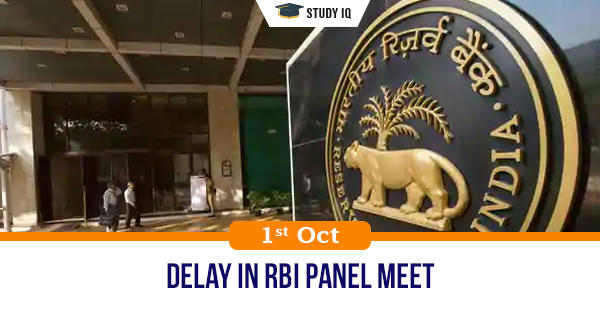 Delay in RBI panel meet
Date: 01 October 2020
Tags: Monetary Policy & RBI
Issue
Reserve Bank of India's Monetary Policy Committee (MPC) was supposed to announce the country's key interest rates and the monetary policy for the next two months.
Background
The government is yet to appoint three new members at a time when the pandemic is raging and GDP growth is floundering.
Details
The bi-monthly meeting was scheduled for September 29 to October 1. The RBI postponed it as it failed to nominate its three members to the six-member panel.

MPC is the statutory committee that fixes the key policy interest rate and monetary policy stance of the country as well as the inflation target.

RBI Governor Shaktikanta Das is the head of the MPC, while the Deputy Governor in charge of the Monetary Policy Department (Michael Patra) and the Executive Director looking after the monetary policy are members from the RBI side.

The three government nominees are selected by a committee formed by the government for a four-year term.

As per the RBI Act, the quorum for an MPC meeting is four, and in effect the committee cannot meet until at least one external member is present, in addition to the three RBI representatives. If there's a tie on any proposal, the RBI Governor holds the casting vote.

The bi-monthly MPC meeting discusses the domestic and international scenario before finalising the repo and reverse repo rates. If there is no consensus on the rate or policy, there will be voting process.

Interest rates play a crucial role in the economy. Any delay in changing the rates will impact the economy as MPC sets the repo rate (the rate at which RBI lends funds to banks) and reverse repo rate (the rate at which the RBI borrows funds from banks).

In 2016, the government had provided statutory backing to the MPC by notifying amendments to the RBI Act, 1934. The inflation target and tolerance band around it, and accountability with respect to failure to achieve the target, were notified by the government during May-August 2016.

The retail inflation level is now above the target of 6% with the August reading at 6.69%, and it has been above the medium-term target of 4% for nearly a year now.

The amended RBI Act defines failure as average inflation breaching the tolerance band for three consecutive quarters, not instantly.