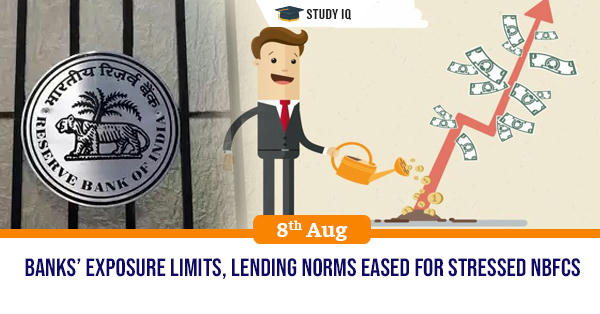 Banks' exposure limits, lending norms eased for stressed NBFCs
Date: 08 August 2019
Tags: Monetary Policy & RBI
Context: The RBI on 7/08/ 2019 unveiled more measures to enhance credit flow to the cash-starved Non- Banking Financial Companies (NBFCs) sector.
Highlights:
The RBI has decided to raise banks' exposure limit to a single NBFC to 20% of Tier-I capital of the bank as a step towards harmonization of the counter party exposure limit to single NBFC with that of the general limits.
The limit was 15% earlier while other sector enjoyed the 20% limit.
RBI has also decided to allow bank lending to register NBFCs (other than micro - financing institutions) for on-lending to agriculture (investment credit) up to Rs. 10 lakh, micro and small enterprises up to Rs. 20 lakh and housing up to Rs. 20 lakh per borrower to be classified as Priority Sector Lending (PSL).
The RBI has also reduced risk weight for consumer credit (except credit card receivables), including personal loans, to 100% as against risk weight of 125% or higher, if warranted external rating of the counter party.
Significance:
The measures are pertinent at a time when lending activity by many NBFCs have declined significantly, resulting in demand slowdown for a range of items including cars, tractors, white goods among others.
The hike will enable banks to increase the credit flow to big NBFCs.
Other steps:
24/7 NEFT transfer: The NEFT payment system that is available from 8 am to 7 pm on all working days of the week will be available on a 24/7 basis from Dec. 2019.
Bill payment system expanded: To leverage the advantages of Bharat Bill Payment System (BBPS), the RBI has decided to permit all categories of billers (except prepaid recharges) who provide for recurring bill payments, currently covering 5 segments- DTH, electricity, gas, telecom, and water bills.
On tap bill payment: In order to benefit from diversification of risk as also to encourage innovation and competition, the RBI has decided to offer 'on tap' authorization to entities desirous to function, operate or provide platforms for Bharat Bill Payment Operating Unit (BBPOU), Trade receivables Discounting System (TReDS) and White Label ATMs (WLAs).

Digital Fraud Registry:

The RBI has proposed to facilitate the creation of a Central Payment Fraud Registry that will track digital transaction fraud.