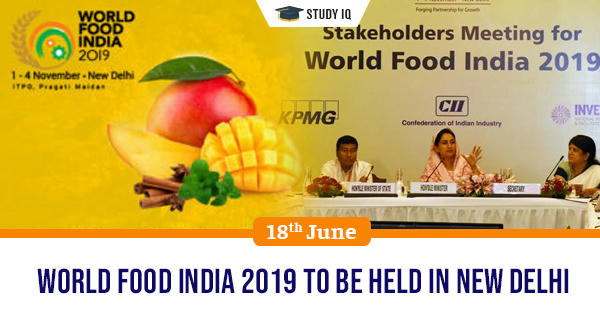 World Food India 2019 to be held in New Delhi
Date: 18 June 2019
Tags: miscellaneous
Union Minister for Food Processing Industries Harsimrat Kaur Badal has announced that World Food India 2019 (WFI 2019) will be held from 1st to 4th November 2019 in New Delhi. WFI is gathering of all global and domestic stakeholders in Food Processing Sector with the objective of promoting food processing sector at global level.
Features of WFI 2019
The theme or tagline of the event will be "Forging Partnerships for Growth". It will be the 2nd edition of World Food India.

It will consist of several top level seminars, investment opportunities, exhibitions, high level CEO roundtables, country sessions, B2B and B2G networking etc.

For WFI 2019, Government is targeting to partner with at least 15 countries and participation from at least 80 countries.

WPI 2019 will be biggest gathering of all global and domestic stakeholders in Food Processing Sector and will position India as Food Processing Destination of the World.
Background
The Ministry of Food Processing Industries, Government of India had initiated World Food India (WFI) as biennial event in 2017 to promote food processing sector at global level. The first edition of WFI was held in 2017.
WFI 2017 had received global success and created Brand India in global food map by positioning India as World Food Factory. It had seen participation of over 61 countries, ministers from several countries. Besides, more than 8,000 B2B meetings were held and MoUs worth USD 14 Billion were signed.
Food Processing: It is one of the six superstar sectors recognized under Union Government's flagship Make in India initiative. Indian has potential to transform India as a leading food processing destination of the World. However, the processing levels in India remain low at 7.7% behind several economies such as China, Malaysia and US. India's share is only of 2% in global exports of processed food.