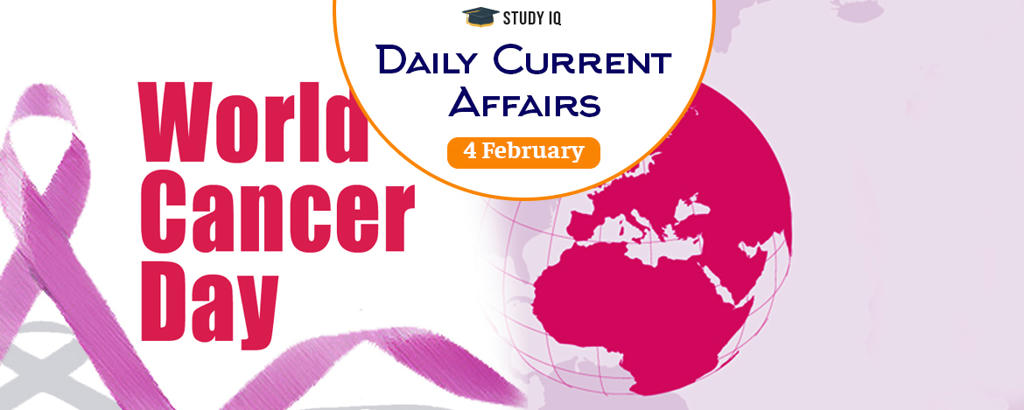 World Cancer Day observed on 4 February
Date: 04 February 2019
Tags: miscellaneous
World Cancer Day is observed every year on February 4 to raise awareness of cancer and to encourage its prevention, detection, and treatment. It aims to save millions of preventable deaths each year through education, raising awareness and by pressing governments and individuals across world to take action against the deadly disease.
New 3-year campaign
Union for International Cancer Control (UICC) which organises this Day every year has launched new 3-year campaign with theme "I Am and I Will". The campaign aims at empowering call-to-action, urging for personal commitment and represents power of individual action to impact the future.
World Cancer Day
It was founded by UICC to support goals of World Cancer Declaration, written in 2008. Its institution can be traced at first World Summit Against Cancer, which was held in Paris, France in 2000.

The primary goal of this day is to significantly reduce illness and death caused by cancer.

It also seeks to provide opportunity to rally international community to end injustice of preventable suffering from cancer. It also targets misinformation, raises awareness, and reduces stigma.
Union for International Cancer Control (UICC)
It is non-governmental organization that exists to help global health community accelerate the fight against cancer.

Its mission is to unite cancer community to reduce global cancer burden, to promote greater equity, and to integrate cancer control into the world health and development agenda.

It was founded in 1933 and based in Geneva, Switzerland.

It has membership of over 800 organisations across 155 countries and features world's major cancer societies, ministries of health, research institutes and patient groups.

It also partners with its members, key partners, World Health Organization (WHO), World Economic Forum (WEF) and others, to tackle cancer on a global scale.