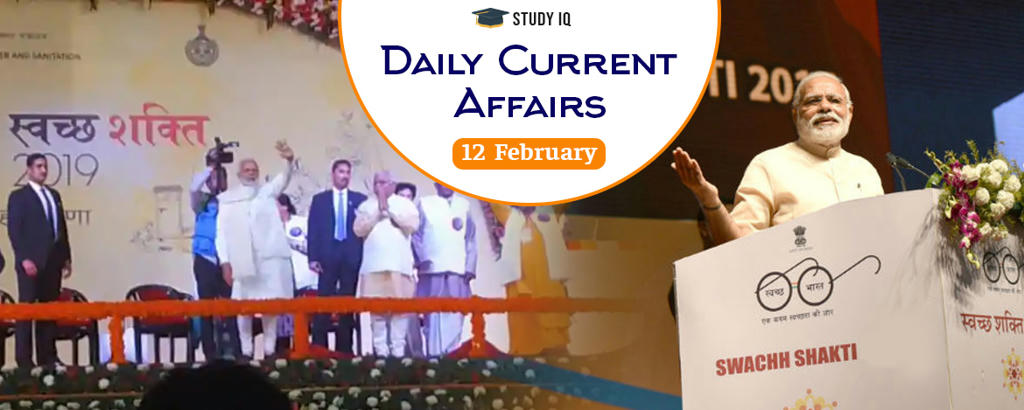 Swachh Shakti 2019 held in Kurukshetra, Haryana
Date: 12 February 2019
Tags: miscellaneous
Prime Minister Narendra Modi launched Swachh Shakti 2019, a convention of Women Sarpanches in Kurukshetra, Haryana. He also awarded Swachh Shakti-2019 awards. Swachh Shakti 2019 is being organized by Union Ministry of Drinking Water and Sanitation in association with Haryana Governmet.
Swachh Shakti-2019
It is national event aimed at bringing in to focus leadership role played by rural women in Swachh Bharat Mission and also empower women.

It will be attended by women Sarpanches and Panches from all over the country. This year it is expected to see participation of around 15,000 women.

It will provide platform to share best practices from grass root level in the rural areas for Swachh Bharat.

It will also showcase achievements of Swachh Bharat and recently conducted Swachh Sunder Shauchalay (neat and clean toilet) - a unique and first of its kind in the world campaign.
Swachh Shakti program
It was launched in 2017 by Union Ministry of Drinking Water and Sanitation to recognise and felicitate women sarpanches, women Swachhagrahis and women champions from across country for their outstanding contribution towards making Swachh Bharat.

It aims to showcase how rural women champions at the grass root level are acting as agent of change to mobilize community and lead from front women taking initiatives for Swachh Bharat.

It is part of ongoing activities under aegis of Swachh Bharat Mission, launched on October 2nd, 2014, and aimed at achieving Clean and Open Defecation Free (ODF) India by 2nd October, 2019.

Its first edition was held in Gandhinagar, Gujarat on occasion of 2017 International Women's Day (March 8). In it 6000 women sarpanches from across the country had participated.

Second editin- Swachh Shakti-2018 was held at Lucknow in Uttar Pradesh. It had seen participation of 8000 women sarpanches, 3000 women Swachhagrahis from across the country.