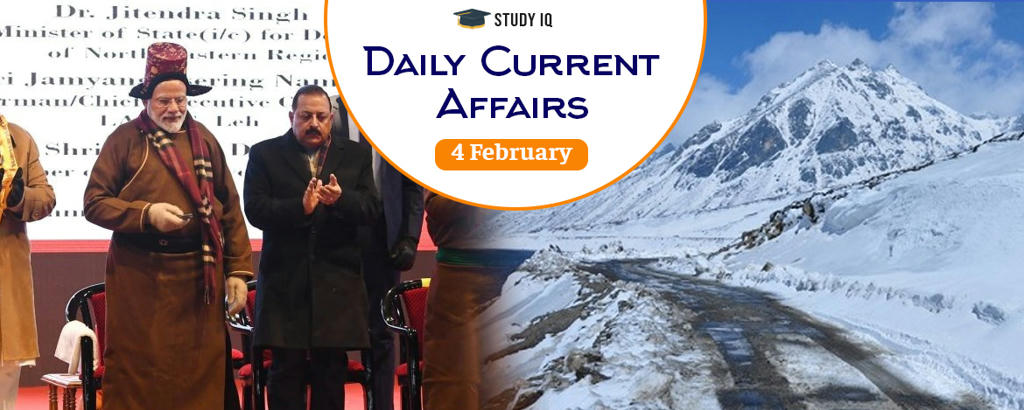 Srinagar-Alusteng-Drass-Kargil-Leh Transmission Line inaugurated
Date: 04 February 2019
Tags: miscellaneous
Prime Minister Narendra Modi dedicated 220 kV Srinagar-Alusteng-Drass-Kargil-Leh Transmission System to nation. With this, Leh-Ladakh region of Jammu & Kashmir (J&K) now has been connected to national grid under One-Nation, One-Grid project.
Srinagar- Alusteng - Drass- Kargil – Leh Transmission Line
This 335 km (approx) long transmission line projected was executed by Power Grid Corporation of India Limited (POWERGRID).

It was flagship project of Central Government of India, under Pradhan Mantri Rojgar Protsahan Yojana (PMRPY) scheme aimed to improve reliability and quality of power supply in Ladakh region by connecting with National Grid.

Its foundation stone was laid in August, 2014 and was completed within record 4.5 years timeframe.

It has been built at height of around 3000-4000 meters.In this project, four new state-of-the-art 220/66 kV Gas Insulated Sub-stations built at Drass, Kargil, Khaltsi and Leh.

Towers of this line are specially designed and constructed with assistance from Snow & Avalanche Study Establishment (SASE) as it remains snow covered for nearly six months.

Funding for this Rs. 2266 crore project was in ratio of 95:05 (95% Central Government share and 5% J&K state share).
Benefits to region
It will ensure 24x7 quality power supply to Ladakh round the year in all weather conditions especially during in harsh winters.

It will help in evacuation of surplus power of Kargil and Leh Hydel stations of NHPC in summers. Thus, it will help to meet power demand of Ladakh region at economical rates.

It will also provide reliable quality power supply to strategically important Ladakh region including defence establishments in the area.

It will give huge boost to tourism sector and enhance socio-economic development of Leh-Ladakh region due to availability of electricity at reasonable rates.

It will also result in minimizing massive use of diesel generating sets during winters, and thus will help in protection of beautiful environment of this pristine region.
POWERGRID
It is state-owned electric utilities company under Ministry of Power. It wholly owned by Central Government.

It is Navratna Company and is one of world's largest power transmission utility.

It was established in October 1989 and headquartered in Gurgaon, Haryana.

It transmits about 50% of total power generated in India on its transmission network.

It has wide network of 150,874 circuit kilometers transmission lines, with 238 sub-stations and transformation capacity of 351,106 MVA.

It also operates a telecom business under name POWERTEL.