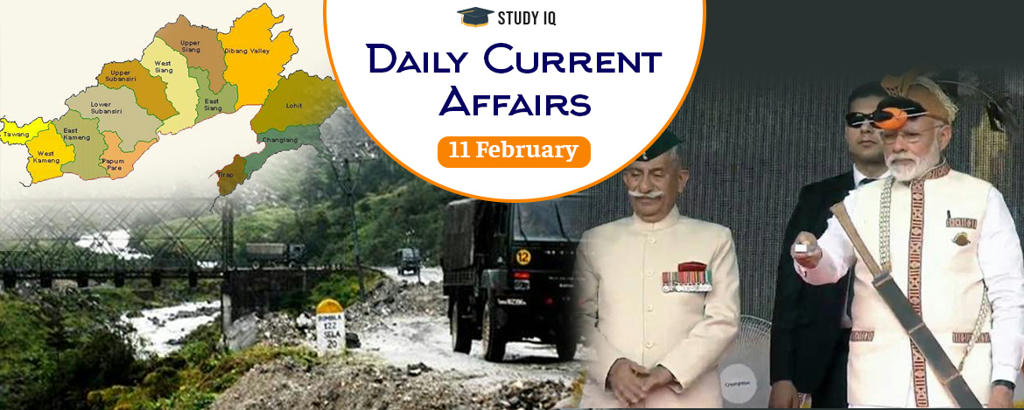 PM lays foundation of Sela Tunnel Project in Arunachal Pradesh
Date: 11 February 2019
Tags: miscellaneous
Prime Minister Narendra Modi laid foundation stone of strategically important Sela Tunnel Project in Arunachal Pradesh. It will provide all-weather connectivity between Guwahati in Assam and Tawang in Arunachal Pradesh. Till now, entry to area was only through 13,700-feet Sela Pass, which is covered in snow in the winters making the movement of vehicles difficult.
Sela Tunnel Project
The tunnel gets its name from 4170 m (13,700-feet) Sela Pass which it will cut across.

It will be implemented by Border Roads Organisation (BRO) in next three years (by 2022).

It will cover total distance of 12.04 kms and will consists of two tunnels of 1790 meters and 475 meters.
Significance
It will provide all weather connectivity to Tawang valley and forward areas bordering China.

It will give fillip to overall development of this remote area, thus giving boost tourism and related economic activities in the region.

It will reduce distance between Dirang and Tawang by 10 km and also reduce the travelling time from Tezpur to Tawang by more than an hour.

It will be game changer and give much needed strategic edge to security forces and local population ahead of Sela. It will allow travellers to avoid dangerous snow covered Sela top (height of 13,700 feet).
Background
The lack of motorable roads and rail connections in northeast India and Arunachal Pradesh in particular were seen as distinct disadvantages for India vis-a-vis China in the region.

Many security analysts had been warning of China building infrastructure including access roads right up to the Indian border that would give it strategic advantage in any conflict with India.

However, in past few years Central Government is stepping up infrastructure connectivity projects in northeast with new airports and railway connections coming up in the region.