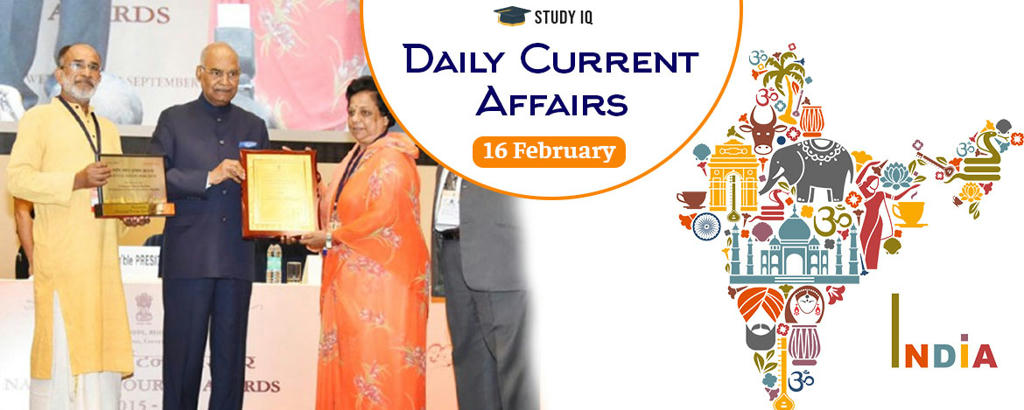 President presents Tagore Award for Cultural Harmony
Date: 16 February 2019
Tags: miscellaneous
President Ram Nath Kovind presented Tagore Award for Cultural Harmony to Rajkumar Singhajit Singh (doyen of Manipuri dance), Bangladesh cultural organisation Chhayanaut and renowned sculptor Ram Sutar for years 2014, 2015 and 2016 respectively. They were selected for this prestigious award by award jury headed by Prime Minister Narendra Modi, which also included Chief Justice of India Justice (CJI) Ranjan Gogoi, former chief election commissioner (CEC) N Gopalaswami and national vice president of BJP Vinay Sahasrabuddhe.
Tagore Award for Cultural Harmony
It is annual award instituted by Central Government in 2011 as part of commemoration of 150th Birth Anniversary of Gurudev Rabindranath Tagore.

It is given to individuals, associations, institutions or organisations for their outstanding contribution towards promoting values of cultural harmony.

It carries monetary amount of Rs. 1 crore, plaque, citation in scroll as well as exquisite traditional handicraft or handloom item.

It is open to all persons regardless of nationality, race, language, caste, creed or sex. It can be divided between two persons or institutions who are considered by jury.

Its jury comprises Prime Minister, Chief Justice of India, leader of opposition in Lok Sabha or leader of single largest opposition party in House and two eminent persons.

Note:

First Tagore award was awarded to Sitar Maestro Pt. Ravi Shankar in 2012 and second to Maestro Zubin Mehta in 2013.