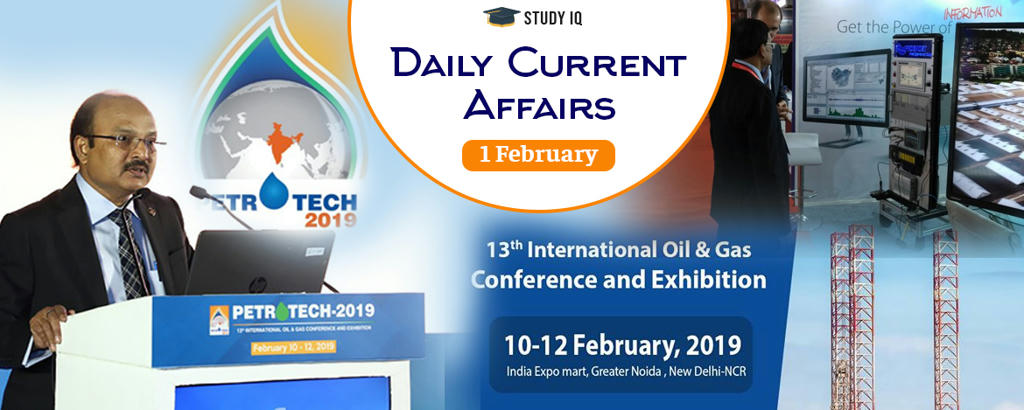 PETROTECH-2019: 13th International Oil & Gas Conference & Exhibition
Date: 01 February 2019
Tags: miscellaneous
The 13th International Oil & Gas Conference & Exhibition viz. PETROTECH-2019 will be held in Greater Nodia, Uttar Pradesh from February 10 to 12, 2019. It will be inaugurated by Prime Minister Narendra Modi. The theme for this year is "Shaping the New Energy World through Innovation and Collaboration". The three-day mega event will showcase recent market and investor friendly developments that have taken place in the India's oil and gas sector.
PETROTECH
It is India's flagship hydrocarbon international conference organised under aegis of Union Ministry of Petroleum & Natural Gas. It is Asia's largest oil and gas event. It is held biennially.

It brings together energy ministers, professionals, industry leaders, academicians and domain experts from energy sector on a common platform to exchange views and share knowledge, expertise and experiences

It aims to explore areas of growth in petroleum technology, exploration, drilling, production and processing, refining, pipeline transportation, petrochemicals, natural gas, Liquefied natural gas (LNG), petroleum trade, economics, legal and human resource development, marketing.

It also showcases strengths and potential of Indian Hydrocarbon industry to world besides providing vibrant platform for sharing of experience, exchange of ideas, knowledge and technological development across various segments of hydrocarbon industry.
PETROTECH 2019
It will see participation of over 86 eminent speakers and 7000 delegates from around 70 countries, including technologists, scientists, planners, policy-makers, management experts, entrepreneurs, service-providers and vendors.

Exhibition organized on sidelines of it will see participation of over 13 country pavilions and about 750 exhibitors from over 40 countries, with exclusive areas on Make in India and Renewable Energy theme.

This exhibition will focus on development in technologies for exploration & production, process control, refining and pipeline and services, systems, products, oil field hardware, software, Renewable, R&D, training and publications of technical literature etc.