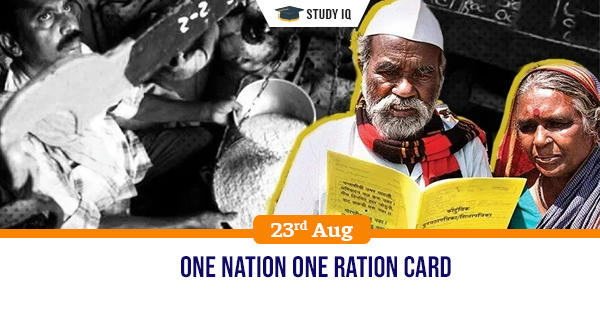 One Nation One Ration Card
Date: 23 August 2019
Tags: Miscellaneous
Issue
The government has launched a pilot project for the inter-state portability of ration cards between Telangana and Andhra Pradesh, and between Maharashtra and Gujarat. This is part of 'One Nation, One Ration Card' scheme.
Background
A ration card is issued to the head of the family, based on the number of members in a family and the financial status of the applicant.
It is used by households to get essential food grains at subsidized prices from designated ration shops (also called fair price shops) under the Targeted Public Distribution System (TPDS)
Details
Ration cards are issued by state governments, which implied that beneficiaries could procure food grains only from the designated ration shops within the concerned state.

If a beneficiary needs to shift to another state, he/she will have to apply for a new ration card in the second state.

The new scheme tries to address this problem and make ration procurement process easy for beneficiaries.
Importance
There are many complications in current scheme. For instance, after marriage, a woman needs to get her name removed from the ration card issued to her parents, and get it added to the ration card issued to her husband's family.

This can be avoided under the new scheme. The scheme has been launched keeping in mind the internal migration of our country, since people keep moving to different states in search of better job opportunities and higher standards of living.

The ONORC scheme being implemented in Telangana and Andhra Pradesh, the beneficiary can buy food grains from ration shops located in either of the states. The same is the case with Maharashtra and Gujarat.