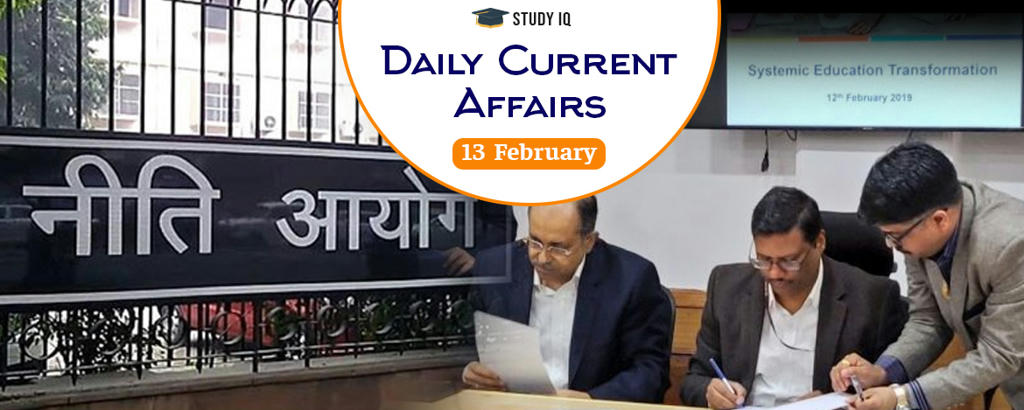 NITI Aayog to document systemic transformation in education
Date: 13 February 2019
Tags: miscellaneous
NITI Aayog inked Statement of Intent (SOI) with Michael & Susan Dell Foundation (MSDF) to codify, document and share best practices to improve learning outcomes in public school education. This will be through systemic reforms, based on collective experiences of NITI Aayog and MSDF while working with various state governments in India. It will help to improving learning outcomes with coordination and simultaneous effort with both academic and governance reforms.
Under this partnership
NITI Aayog and MSDF will document reforms pursued by various state governments that have initiated systemic reforms in education and have seen improved learning outcomes over the past few years.

Joint team comprising of state leaders, research agencies, consultants and educators will work together to develop 'theory of change' based on learnings from states.

They will document impact on ground by commissioning third party studies to evaluate impact of systemic reforms in education.

The key findings and takeaways from this exercise will be disseminated to relevant decision-makers and policymakers in other states after consultative process through workshops and publications.
Other initiatives of NITI Aayog in Education Sector
School Education Quality Index (SEQI):

It ranks states/UTs on educational outcomes, with high weightage to learning outcomes.

Sustainable Action for Transforming Human Capital in Education (SATH-E) initiative:

It is being implemented to induce systemic transformation in Madhya Pradesh, Jharkhand and Odisha.
MSDF
It is philanthropic organisation set up in 1999 by Susan and Michael Dell by investing their proceeds of sales of shares of Dell Inc.

It is dedicated to transforming lives of children living in urban poverty through improving their education, health and family economic stability.