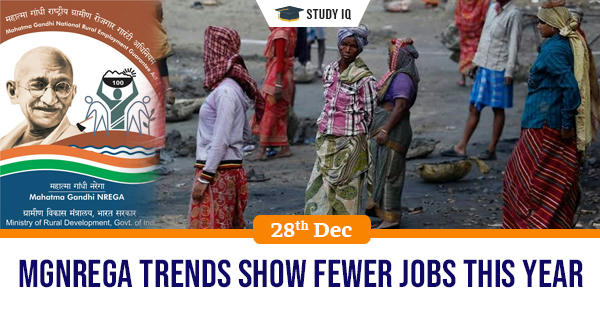 MGNREGA trends show fewer jobs this year
Date: 28 December 2019
Tags: Miscellaneous
Issue
Jobs generated under the Mahatma Gandhi National Rural Employment Guarantee Act (MGNREGA) have shown a dip compared to last year after July.
Background
MGNREGA is supposed to guarantee 100 days of total employment to adult members of any rural household that demands such employment.
Details
The current year has witnessed a clear dip in the person-days of employment under MGNREGA, which is visible after July.

The fall in MGNREGA employment after July has been largely due to the onset of the southwest monsoon.

Rainfall during the monsoon season (June-September) this year was 10% above the historical long-term average, whereas it was 9.4% below average in 2018. An above-normal monsoon meant there was lower demand for MGNREGA work.

Data also shows that gap between the number of households demanding MGNREGA work and the number who were provided work has been the highest in 2019-20. This indicates that even if demand fell, supply of work fell even more.

It is not MGNREGA alone that is witnessing a deceleration of activity this fiscal. The same goes for the Pradhan Mantri Kisan Samman Nidhi (PM-KISAN), the government's farm income support scheme.

The total amount disbursed under the income support scheme in the year 2019-20 is Rs 32,320.86 crore, which is significantly short of the Rs 75,000 crore budgeted for it.

The number of rural houses built under PM Awas Yojana-Gramin has also seen a sharp drop so far in 2019-20.
MGNREGA
MGNREGA is an employment guarantee scheme which aims to enhance livelihood security in rural areas by providing at least 100 days of wage employment in a financial year to every household whose adult members volunteer to do unskilled manual work.
PM- Awas Yojana
Pradhan Mantri Awas Yojana is an initiative by Government of India in which affordable housing will be provided to the urban poor with a target of building 20 million affordable houses by 31 March 2022.