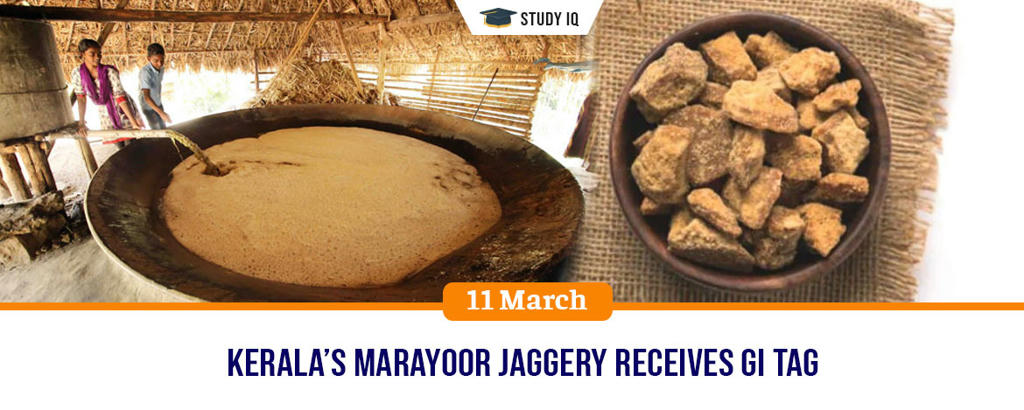 Kerala's Marayoor Jaggery receives GI tag
Date: 11 March 2019
Tags: miscellaneous
The traditional and handmade Marayoor Jaggery from Idukki district of Kerala was recently accorded Geographical Indication (GI) tag by Chennai based Geographical Indication Registry. It received this coveted tag two year after Agricultural Department of the state had applied for it. It will provide more windows of opportunity to traditional sugarcane farmers in Marayoor region of Kerala.
Marayoor Jaggery
It is produced in Marayoor town in Idukki district of Kerala. It is one of sweetest jaggeries produced in Idukki.

It is dark brown in colour and high in sweetness and iron. It has less sodium content and insoluble impurities.

It is made from sugarcane which is completely chemicals free (pesticides and fertilizers free).

It is prepared in traditional way in small sheds located on the sugarcane farm and not in commercial scale in modern factories or using modern equipment.
Significance of GI Tag
It will provide more windows of opportunity to traditional sugarcane farmers in Marayoo to get more market and price.

It will also rejuvenate traditional way of production and ensuring safe market for Marayoor Jaggery in future.

It will allow only natives of the area to produce and market Marayoor jaggery exclusively.

It will help prevent fake product being sold as Marayur jaggery, especially from Tamil Nadu which has crashed prices and harmed traditional farmers.
Geographical Indication (GI)
It is name or sign used on products which corresponds to specific geographical location or origin (can be town, region or country).

It acts as authenticity certification that product possesses certain qualities and is made according to traditional methods and enjoys certain reputation due to its geographical origin.

It plays very important role to increase realm of market for the original product. It also indirectly leads to sustainable development, boosts exports as well tourism.