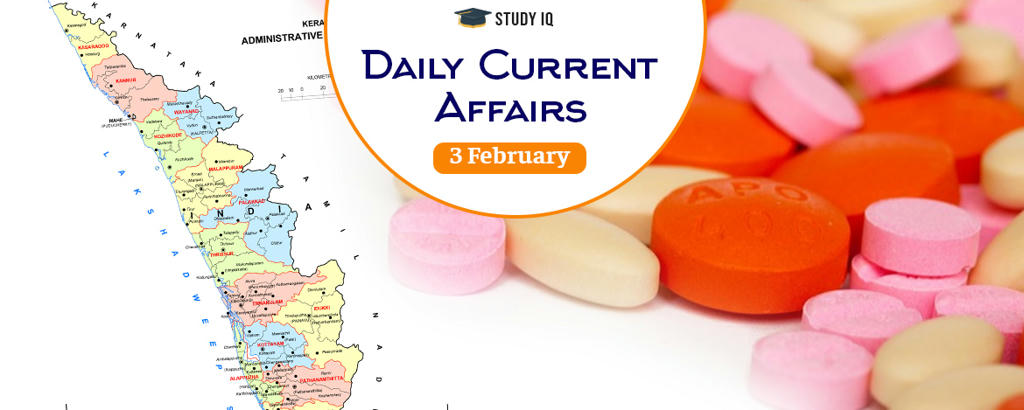 Kerala first state to set up Price Monitoring and Research Unit
Date: 03 February 2019
Tags: miscellaneous
Kerala became first State in the country to set up price monitoring and research unit (PMRU) to track violation of prices of essential drugs and medical devices under Drugs Price Control Order (DPCO). The move comes more than five years after the National Pharmaceutical Pricing Authority (NPPA) proposed such system for the States and Union Territories (UTs).
Price Monitoring and Research Unit (PMRU)
It will serve as watchdog will look at overcharging for medicines and sale of stents. It has been registered as society under Societies Registration Act, 1860 and will get Central assistance for the functioning,

It is expected to help State Drugs Control wing, which is hit by severe staff shortage, and regulate drug prices more effectively.

Composition:

State Health Secretary will be its Chairman and Drugs Controller will be its member secretary. Its members will include State government representative, representatives of private pharmaceutical companies, and those from consumer rights protection forum. It will also have executive committee headed by the Drugs Controller.
Functions
It will offer technical help to State Drug Controllers and NPPA to monitor notified prices of medicines, detect violation of the provisions of DPCO.

It will look at price compliance, collect test samples of medicines, and collect and compile market-based data of scheduled as well as non-scheduled formulations.

It will also check if pharma companies were hiking the prices of non-scheduled drugs by more than 10% a year. It may also check if there is any shortage of essential medicines.
Background
NPPA decides ceiling prices and medical devices under Drug (Prices Control) Order. These essential medicines are those that satisfy the priority health care needs of the country's population. Pharma companies have been accused of overcharging prices of drugs in scheduled category fixed by DPCO and those outside its ambit too. The suggestion to set up PMRUs was made against backdrop of lack of field-level link between NPPA and State Drugs Controllers and State Drug Inspectors to monitor drug prices. NPPA has fixed the prices of around 1,000 drugs and prior to this there was no price review mechanism.
About National Pharmaceutical Pricing Authority (NPPA)
It is nodal government regulatory agency that controls prices of pharmaceutical drugs in India. It functions under Union Ministry of Chemical and Fertiliser. It advices Central Government in matters relate to drug policies and pricing. It also renders advice to Central Government on changes/ revisions in the drug policy.