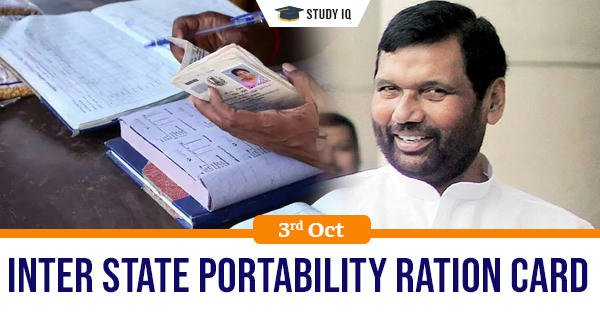 Inter state portability ration card
Date: 03 October 2019
Tags: Miscellaneous
Issue
The Centre has launched an inter-state portability ration card in Rajasthan and Haryana in a bid to implement its 'One Nation, One Ration Card' scheme.
Background
This will enable beneficiaries from either of the States' cluster to avail the benefits accruing to them under the National Food Security Act from any of the two States.
Details
At present 11 States/Union Territories, including Andhra Pradesh, Gujarat, Haryana, Jharkhand, Karnataka, Kerala, Maharashtra, Punjab, Rajasthan, Telangana and Tripura, have implemented the intra-State portability of ration card holders to lift the entitled foodgrains from any Fair Price Shops (FPSs) within their State.
One Nation One Ration card (ONORC)
It is a scheme under Ministry of Consumer affairs, that enables nation-wide portability of ration card holders to receive subsidized foodgrains under NFSA from anywhere in the country.
Benefits
This initiative shall be very helpful for the large migratory population of the country who migrate from one part of the country to other in search of job/employment, marriage, or any other reason and find difficulty in accessing subsidized foodgrains in the present system.

The migrant member can pick up grains at his location while the family staying back in rural areas pick their share there.

ONORC will give the beneficiaries the opportunity to opt for the dealer of their choice. If any dealer misbehaves or mis-allocates, the beneficiary can switch to another FPS shop instantly.

Digitalisation would make the system more beneficial and self-correcting.