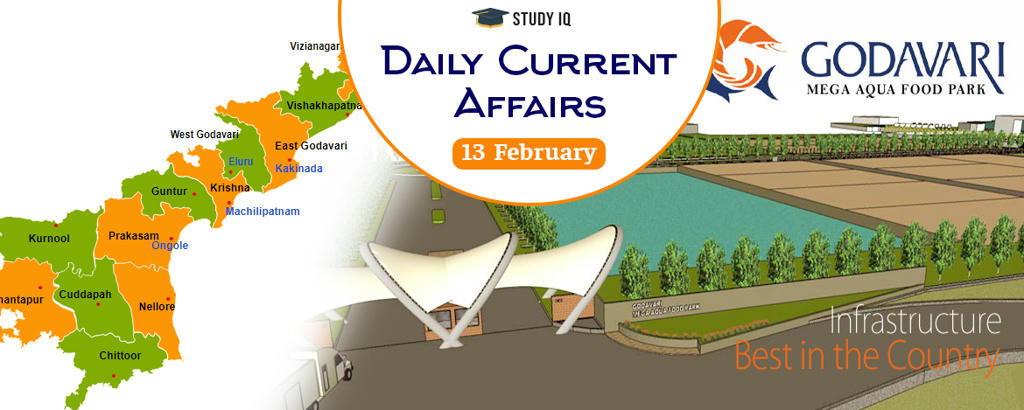 India's first mega aqua food park commissioned in Andhra Pradesh
Date: 13 February 2019
Tags: miscellaneous
India's first mega aqua food park- Godavari Mega Aqua Food Park was recently commissioned at Tundurru Village in Bhimavaram Mandal, West Godavari District, Andhra Pradesh. This aqua food park is exclusively for fish and marine products processing. It has been set up under Central Government's Mega Food Park Scheme.
Note: Besides this aqua food park, Union Ministry of Food Processing Industries also had sanctioned two other mega food parks, one in Chittoor District (operational since 2012) and another one in Krishna District of Andhra Pradesh.
Godavari Mega Aqua Food Park
It is promoted by Godavari Mega Aqua Food Park Pvt. Ltd. It has been set up on 57.81 acre of land at a cost of Rs. 122.60 crores.

Its Central Processing Centre (CPC) has facilities for pre-processing line for fish, pre-processing line for shrimp, freezing of fish, freezing of shrimp, cold storage for fish (2000MT).

It also has facilities for cold storage for shrimp of 1000MT, ice plant, food testing laboratory besides state of art enabling infrastructure.
Significance
It will benefit people of Andhra Pradesh Coastal city West Godavari-District as well as nearby Districts of East Godavari, Krishna and nearby districts of Telangana.

Its modern infrastructure for food processing especially fisheries will also benefit farmers, growers, processors and consumers of Andhra Pradesh and adjoining areas immensely.

It will give big boost to the growth of food processing sector in fisheries sector in Andhra Pradesh and also in other coastal states of country.