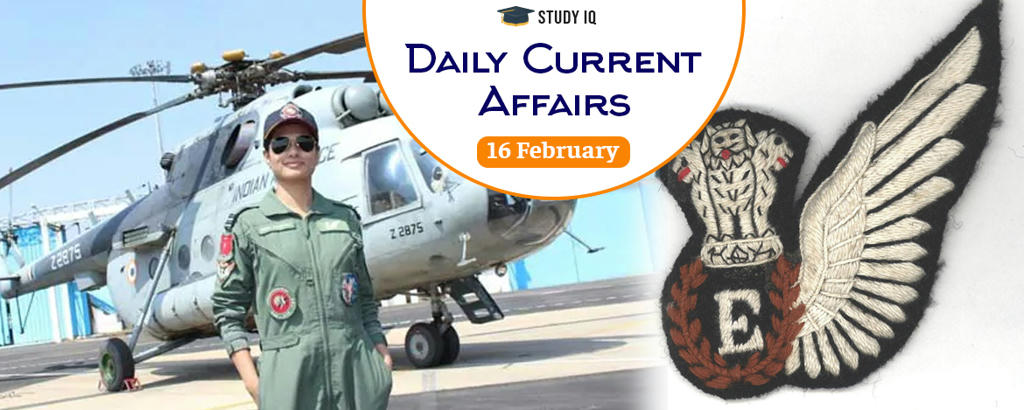 Hina Jaiswal: First woman flight Engineer of IAF
Date: 16 February 2019
Tags: miscellaneous
Flight Lieutenant Hina Jaiswal became first woman flight Engineer of Indian Air Force (IAF). She achieved this feat after successfully completing six-month flight engineer course from 112 Helicopter Unit attached to Air Force Station in Yelahanka in Bengaluru, Karnataka.
Flight engineer
Flight engineer is member of aircraft's flight crew who monitors and operates its complex aircraft systems requiring specialised skill set. Earlier this field in IAF was restricted to men and was opened to women officers in 2018.
Key Facts
During course of six months of training, Hina trained shoulder to shoulder with her male counterparts.

Now she will be posted to helicopter squadron where she will monitor and operate IAF's complex aircraft in various conditions, including Siachen Glacier and Andaman and Nicobar Islands.

This highlights measures by Indian armed forces in past decades to become more gender inclusive.

IAF since 1993, has commissioned women in officer cadre and they have also been successfully inducted as pilots in various streams of IAF.
About Hina Jaiswal
She was born in Chandigarh and was commissioned in engineering batch of IAF in January 2015.

She has completed her Bachelors of Engineering degree from University Institute of Engineering and Technology (UIET) Panjab University.

She has served as chief of firing team and battery commander in frontline surface to Air Missile Squadron.