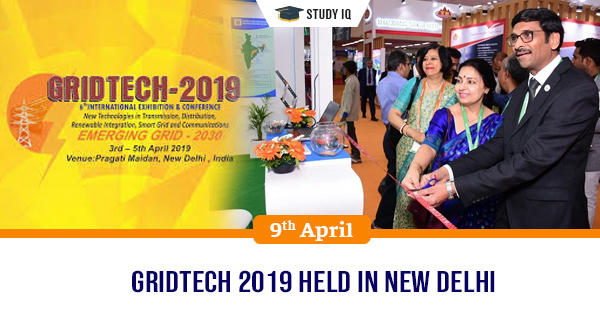 GRIDTECH 2019 held in New Delhi
Date: 09 April 2019
Tags: miscellaneous
The 6th International Exhibition and Conference GRIDTECH-2019 on new technologies in Transmission, Distribution, Integration, Renewable, Smart Grid and Communication was held in New Delhi. It was inaugurated by Vice President of India Venkaiah Naidu.
GRIDTECH 2019
It was organised by POWERGRID, with support of Union Ministry of Power and in association with Indian Electrical and Electronics Manufacturers Association (IEEMA) and Central Board of Irrigation & Power (CBIP).

It provided common platform for exhibitors, power utilities, planners, policy makers, regulators, manufacturers, research institutions, academicians, consultants, visitors etc.

It provided opportunity to participating companies to showcase their expertise in various domains of power sector and technology knowhow for their awareness and benefit of overall public sector.
POWERGRID
It is Navaratna Central Public Sector Enterprise (CPSE) and central transmission utility (CTU) of India. It is headquartered in Gurugram, Haryana.

It is largest electric power transmission utility in India. It transmits around 50% of total power generated in India on its transmission network.

It operates 90% of inter-state and inter-regional networks. Government owns 56.91% of stake in it and balance 43.09% is owned by public.