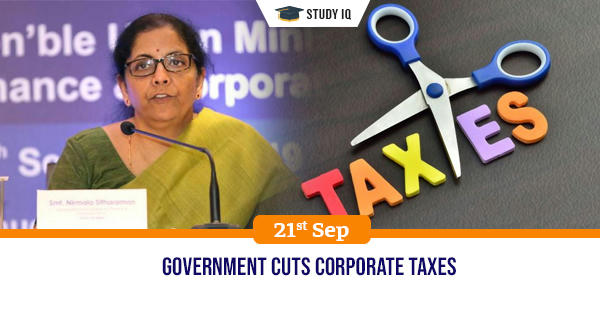 Government cuts corporate taxes
Date: 21 September 2019
Tags: Miscellaneous
Issue
The government issued an ordinance to reduce the corporate tax rate for domestic firms and new manufacturing units by 10 to 12 percentage points.
Background
The corporate tax cut is part of a series of steps taken by the government to tackle the slowdown in economic growth, which has dropped for five consecutive quarters to 5% in the June quarter.
Details
The effective tax rate for domestic corporates, inclusive of surcharges, will fall from 34.94% to 25.17% if they stop availing any other tax sops.

For new manufacturing firms set up after October 1, 2019 and commencing operations by March 31, 2023, the effective tax rate will fall from 29.1% to 17%.
Reason for Tax Cuts
Many investors were scared by the additional taxes on them that were announced by the government during the budget in July and began pulling money out of the country.

The government hopes that the new, lower tax rates will attract more investments into the country and help revive the domestic manufacturing sector which has seen lackluster growth.
Effects
Tax cuts puts more money in the hands of the private sector and can offer people more incentive to produce and contribute to the economy.

The present cut in taxes can make India more competitive on the global stage by making Indian corporate tax rates comparable to that of rates in East Asia.

The tax cut, however, is expected to cause a yearly revenue loss of ?1.45 lakh crore to the government which is struggling to meet its fiscal deficit target.