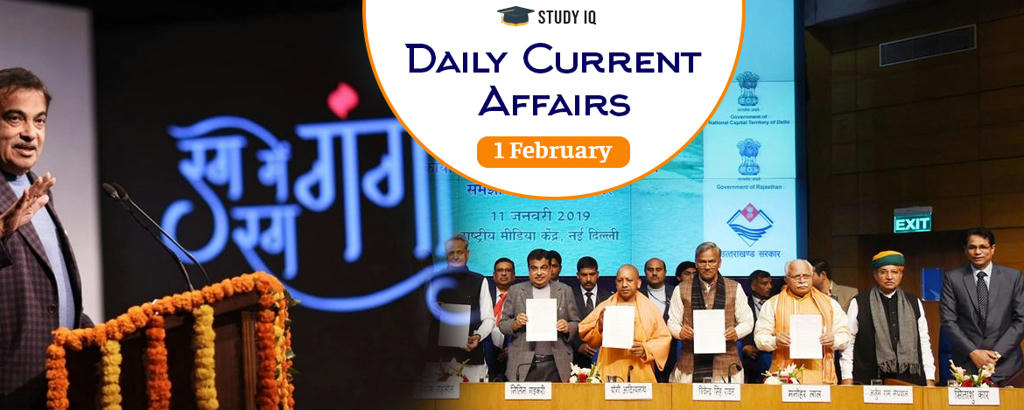 Doordarshan launches 'Rag Rag Mein Ganga' Travelogue Programme and 'Meri Ganga' Quiz Series
Date: 01 February 2019
Tags: miscellaneous
State broadcaster Doordarshan launched travelogue programme 'Rag Rag Mein Ganga' and 'Meri Ganga Quiz' series. Both programmes are funded by National Mission for Clean Ganga (NMCG) under Namami Gange programme.
Rag Rag Mein Ganga
This travelogue showcases spiritual, religious, cultural and socio economic heritage of River Ganga and its present ecological condition. It covers Ganga's journey from Gomukh to Ganga Sagar.

It will be aired on DD National and will be 21-episode series anchored by a well-known actor, Rajeev Khandelwal.

It is embedded with many take-home messages for viewers on need of rejuvenating Ganga. It will highlight the present situation of Ganga in terms of cleanliness along with call for action to people.
'Meri Ganga Quiz' series
It has been designed by National Mission for Clean Ganga (NMCG) along with Doordarshan.

It aims to cover school children from all zones of India to trigger curiosity in younger generation and to encourage them to take up the cause to conserve and rejuvenate Ganga.

The 16-episode quiz series will be telecast on DD National from 2nd February 2019 every Saturday and Sunday from 10 a.m.
Namami Gange Programme
It is an Integrated Conservation Mission to accomplish twin objectives of effective abatement of pollution, conservation and rejuvenation of National River Ganga

It was approved as 'Flagship Programme' by Union Government in June 2014 with budget outlay of Rs. 20,000 Crore for integrating various efforts to clean and protect River Ganga in comprehensive manner.

Its main pillars are sewerage treatment infrastructure, river-surface cleaning, river-front development, bio-diversity, afforestation, public awareness, industrial effluent monitoring and ganga gram.

It will cover 12 rivers across 8 states, 47 towns. It seeks to benefit vast population dependent on River Ganaga in terms of job creation, improved livelihoods and health benefits.

It also endeavours to deploy best available knowledge and resources international countries that have expertise in river rejuvenation for Ganga rejuvenation.
National Mission for Clean Ganga (NMCG)
It is implementation wing of National Council for Rejuvenation, Protection and Management of River Ganga (also referred as National Ganga Council which is chaired by Prime Minister).

It was established as a registered society under Societies Registration Act, 1860 in 2011.

It has a two tier management structure and comprises of Executive Committee and Governing Council Both of them are headed by Director General (DG), NMCG.