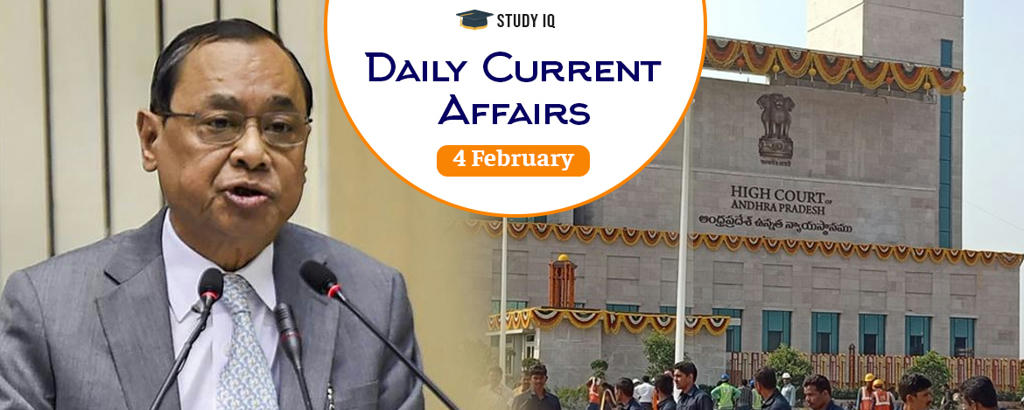 CJI Ranjan Gogoi lays foundation stone for Andhra Pradesh HC
Date: 04 February 2019
Tags: miscellaneous
Chief Justice of India (CJI) Ranjan Gogoi laid foundation stone for Andhra Pradesh High Court building in Nelapadu in Amaravati capital region of the state where Justice City is being developed. He also inaugurated interim Andhra Pradesh High Court complex at Amaravati. Interim complex is two-storied building constructed at Nelapadu and has 16 court halls, including 12 on the first floor.
Background
Separate HC for Andhra Pradesh came into existence on January 1, 2019, four and a half years after bifurcation of state on June 2, 2014.

It was created through Presidential order notified under Article 214 of Constitution. With this, the total strength for high courts in the country is now 25.

Prior to it, Andhra Pradesh and Telangana were having common high court at Hyderabad, the latter's capital city.

Section 30 of Andhra Pradesh Reorganisation Act, 2014 (which was enacted with view to provide reorganisation of existing Andhra Pradesh) calls for setting up separate HC for Andhra Pradesh.

It is having total 16 judges including Chief Justice. Justice Praveen Kumar is currently acting Chief Justice of Andhra Pradesh HC.
Andhra Pradesh High Court
Both Judicial Complex and High Court are being developed as part of Justice City, to be developed on 450 acres of land. Justice City will be completed in two phases in 2022 and 2036.

The permanent High Court complex will be built in total site area of 42 acre of land with built up area of about 12.2 lakh sq ft. Its design will be based on Buddhist Stupa.

It will comprise construction of 36 court halls in first phase with provision for additional 24 court halls for future expansion.

High Court is proposed to be developed along with ancillary supporting ecosystem, including tribunals, City Courts, residences and other facilities.

Shapoorji and Pallonji Group has been entrusted with responsibility to develop it at estimated cost of Rs. 1,400 crore.