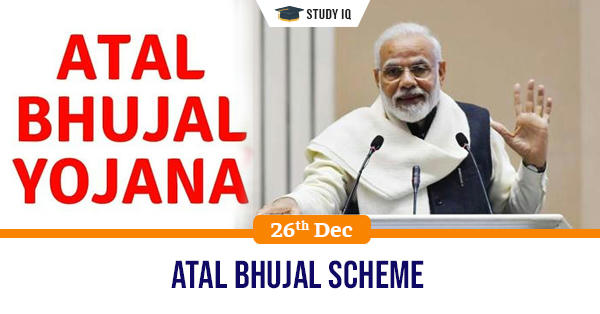 Atal Bhujal Scheme
Date: 26 December 2019
Tags: Miscellaneous
Issue
On the Birth anniversary of former Prime Minister Atal Bihari Vajpayee, Prime Minister Shri Narendra Modi launched Atal Bhujal Yojana (ATAL JAL) for managing groundwater resources through community participation.
Background
Groundwater storage offers many opportunities to increase storage and enhance the general water supply. The value of groundwater will increase as scarcity intensifies and effective groundwater management will be required if groundwater values are to be reaped.
Details
The Atal Bhujal Yojana is a Central Sector Scheme under Jalshakti Ministry, with a total outlay of Rs.6000 crore to be implemented over a period of 5 years

It aims to improve ground water management through community participation in identified priority areas in seven States, viz. Gujarat, Haryana, Karnataka, Madhya Pradesh, Maharashtra, Rajasthan and Uttar Pradesh.

Implementation of the scheme is expected to benefit nearly 8350 Gram Panchayats in 78 districts in these States.

The scheme will promote panchayat led ground water management and behavioural change with primary focus on demand side management.

Out of the total outlay of Rs. 6000 crore, 50% shall be in the form of World Bank loan, and be repaid by the Central Government.

The remaining 50% shall be through Central Assistance from regular budgetary support.
Community led water shed management
Aspects:
The communities of the selected catchment area need to be involved in all stages of the watershed development process, i.e. planning, implementation, and management.
Women are the main sufferers if water management is uncoordinated, since they have to gather the water for household use. They are the key to ensuring the practicality and sustainability of the process.
Realistic, integrated, productive, and manageable
Watershed development planning should be realistic and build on local capacity and locally available resources. Integrated management of the local natural resources and optimal use of social resources are essential parts of watershed development.
Cost-sharing by stakeholders contributes to the sustainability of a project. Also other forms of local contributions are possible, such as labour and local materials.