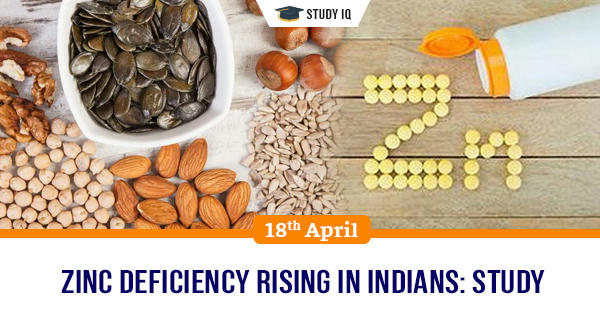 Zinc deficiency rising in Indians: Study
Date: 18 April 2019
Tags: Miscellaneous
According to new Harvard study titled 'Inadequate zinc intake in India: past, present and future', rising carbon dioxide (CO2) levels can accelerate zinc deficiency in crops and thus in human consumption.
Study findings
Inadequate zinc intake has been rising in India for decades, causing tens of millions of people to become newly deficient in it. Rising CO2 levels in coming decades could accelerate this trend.

The highest rate of inadequate zinc intake was concentrated in the southern and northeastern States with rice-dominated diets: Kerala, Tamil Nadu, Andhra Pradesh, Manipur and Meghalaya.

National grain fortification programmes, increased dietary diversity, bio-fortified crops, and reduced carbon dioxide emissions could all make a difference to slow or reverse the course.
Zinc
It is essential nutrient for humans and is extensively involved in protein, lipid, nucleic acid metabolism, and gene transcription.

Its role within human body is extensive in reproduction, immune function, wound repair, and on microcellular level, macrophage, neutrophil, natural killer cell, and complement activity.

It is found in multiple food groups including meat, fish, legumes, and other dietary sources although absorption varies by substrate.

Zinc deficiency can be inherited as absorption difficulties or can manifest from a decreased intake. It is common worldwide, but mostly in developing countries. It presents with infectious, inflammatory, gastrointestinal, or cutaneous involvement. Its treatment is largely through oral replacement usually resulting in quick clinical improvement.