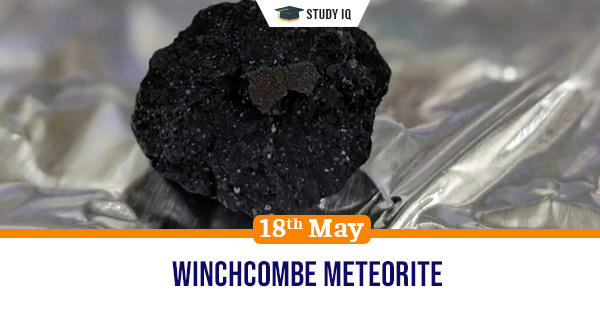 Winchcombe meteorite
Date: 18 May 2021
Tags: Miscellaneous
Issue
The National History Museum will start displaying a part of the Winchcombe meteorite that stuck the town in February 2021.
Details
Meteoroids can be defined as objects present in space that can range from dust grains to small asteroids.

These meteoroids will be called meteors after they enter into Earth's atmosphere. It will be called meteorite if meteoroid enters Earth's atmosphere and hits the ground.
Discovery of the meteorite
The discovered meteorite is black in colour and resembles a block of coal. It was discovered by researchers of University of Glasgow.

The meteor shower was visible sometime during February and many people were able to see it. It was also captured in car dash and doorbell cameras.
Significance
The meteorite belongs to the period during the birth of Solar System. Studying it will provide valuable information regarding the birth and origin of Solar System, including the Earth.

The Winchcombe is famous as it is the only meteorite that has fallen and obtained from UK in the last 30 years.

The meteorite belongs to a class called Carbonaceous that is very rare and constitutes only 1,000 of every 65,000 samples.