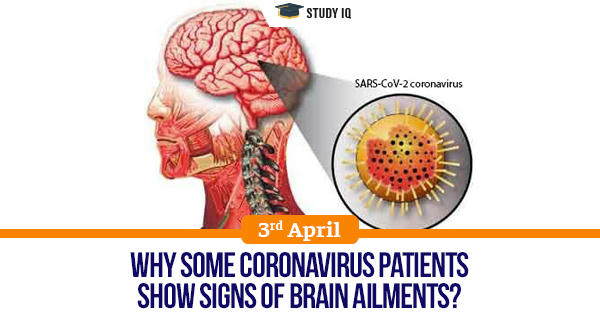 Why some Coronavirus patients show signs of brain ailments?
Date: 03 April 2020
Tags: Miscellaneous
Issue
Neurologists around the world say that a small subset of patients with COVID-19 are developing serious impairments of the brain.
Background
Neurological specialists say that it is too early to make definitive statements or identify the specific mechanisms by which the new coronavirus is affecting the neurological system.
Details
Although fever, cough and difficulty breathing are the typical hallmarks of infection with the new coronavirus, some patients exhibit altered mental status, or encephalopathy, a catchall term for brain disease or dysfunction that can have many underlying causes, as well as other serious conditions.

These neurological syndromes join other unusual symptoms, such as diminished sense of smell and taste as well as heart ailments.

The pattern of involvement, and the way that it rapidly progressed over days, is consistent with viral inflammation of the brain. This may indicate the virus can invade the brain directly in rare circumstances.

These domestic reports follow similar observations by doctors in Italy and other parts of the world, of COVID-19 patients having strokes, seizures, encephalitislike symptoms and blood clots, as well as tingling or numbness in the extremities, called acroparesthesia.

The patients who come in with encephalopathy are confused and lethargic and may appear dazed, exhibiting strange behavior or staring off into space.

They may be having seizures that require immediate medical care, and experts are warning health care providers who treat such patients to recognize that they may have COVID-19 and to take precautions to protect themselves from infection.

Chinese have scientists noted that there was some evidence that other coronaviruses were not confined to the respiratory tract and invaded the central nervous system, and the authors speculated that this may potentially play a role in acute respiratory failure in COVID-19.

Patients who have encephalopathy and seem confused or incoherent are prone to having seizures, and should receive treatment as soon as possible.