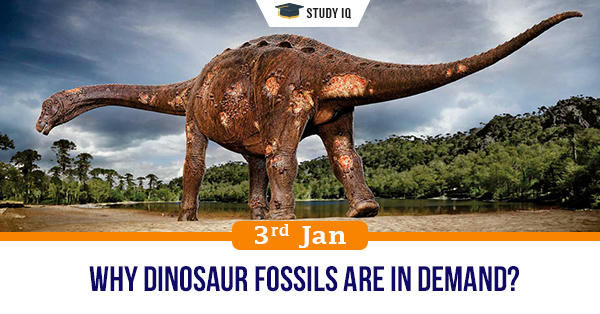 Why Dinosaur fossils are in demand?
Date: 03 January 2021
Tags: Miscellaneous
Issue
In 2020, an exhibit at a Christie's auction fetched $31.8 million for well-preserved skeleton of a dinosaur, which was a record-breaking feat.
Background
The proceeds from the sale of Tyrannosaurus Rex skeleton period far exceeded the high estimate of $8 million, and smashed the previous record for a dinosaur fossil at a Sotheby's auction.
Details
Palaeontologists have raised concerns that the commercial sale of dinosaur fossils and escalating prices would encourage people to sell well-preserved fossils in the open market rather than leaving them for palaeontologists to study.

They also fear that most of the good fossils will probably enter private collections, as universities and museums may not be able to match the high prices they offer.

In the US, fossil bones found on federal land are public property, and can be collected only by researchers with permits.

These go to public trust and repositories, including accredited museums. Fossils discovered on private land, however, can be bought and sold.

In Canada, Mongolia, China, and Argentina, fossils can't be exported, even though cases of black marketing have come to light.

In India, too, palaeontologists fear that the country's rich fossil heritage is under threat in the absence of stringent laws and preservation efforts.
Popularity of dinosaur fossils
The fact that Christie's auctioned Stan in a sale of contemporary art rather than a natural history auction is being seen as an indicator of the collector base of the fossils.

While Hollywood actors, including Nicolas Cage, Russell Crowe and Leonardo DiCaprio, are known to buy dinosaur fossils, there is also a broad collector base in countries such as China, Hong Kong, Taiwan, Thailand, Singapore, Indonesia and the Philippines.
Fossils
A fossil is any preserved remains, impression, or trace of any once-living thing from a past geological age. Examples include bones, shells, exoskeletons, stone imprints of animals or microbes, objects preserved in amber, hair, petrified wood, oil, coal, and DNA remnants.