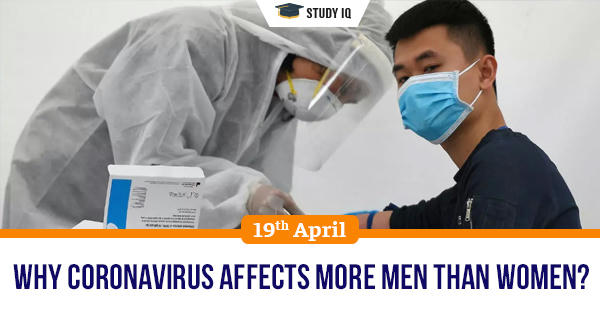 Why Coronavirus affects more men than women?
Date: 19 April 2020
Tags: Miscellaneous
Issue
A research had earlier found out that fatality rate for men infected with Coronavirus was higher than that for women. The result showed a fatality rate of 2.8% for men, as compared to 1.7% for women.
Background
In subsequent weeks, as the footprint of the disease covered the entire planet, the same pattern was detected in almost all countries that released sex-aggregated data — including Italy, Iran, South Korea, Germany, and France.
Details
One early theory, based on the deaths in China, was that men were more vulnerable because they were more likely to be smokers (about half of all men in China smoke, whereas only about 2 in 100 women do), and therefore, more likely to have a lung condition.

The hypothesis has been backed by data from China in a scientific paper; however, the gap between the percentages of smoker men and women is not as wide as in say, Italy, Spain, or the United States, all of which have seen several times the number of deaths that have occurred in China.

It has also been argued that smokers are likely to touch their mouths more often, and that some could be sharing cigarettes.

Another hypothesis is based on behavioural factors such as the likelihood of women being more careful than men about washing their hands using soap, and being more likely to heed public health advice. But generalising these traits across populations and cultures is unscientific.

Research has shown that men have a lower innate antiviral immune response to a range of infections including hepatitis C and HIV. Their immune system may not initiate an appropriate response when it initially sees the virus.