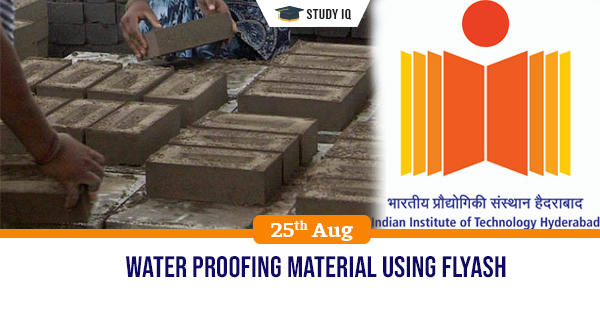 Water proofing material using flyash
Date: 25 August 2019
Tags: Miscellaneous
Issue
Researchers at the Indian Institute of Technology (IIT) Hyderabad have developed a waterproofing material using fly ash, a cheap byproduct of thermal power plants.
Background
Fly ash or flue ash, also known as pulverised fuel ash is a coal combustion product that is composed of the particulates that are driven out of coal-fired boilers together with the flue gases.
Details
Fly ash is extremely water-loving (hydrophilic), it turns into a highly water-repelling surface once coated with stearic acid.

The head of stearic acid which is hydrophilic binds to fly ash particles, the water-repelling tail remains free. Numerous free hydrophobic tails of stearic acid makes the fly ash surface water repellent.

The stearic acid-coated fly ash surface can be made to behave like one of the two naturally occurring water-repelling materials which is rose petals or lotus leaves by the varying the surface roughness.

The topography changes completely when fly ash particles of different sizes are used. The smaller particles tend to fill the gap between the larges ones thus resulting in a tighter packing with very little gap between particles.
Other uses and benefits of fly ash
Fly ash can be used as prime material in many cement-based products, such as poured concrete, concrete block, and brick.

Fly ash can also be used as embankment and mine fill.

Fly-ash has great potentiality in agriculture due to its efficacy in modification of soil health and crop performance. The high concentration of elements (K, Na, Zn, Ca, Mg and Fe) in fly-ash increases the yield of many agricultural crops.

Fly ash can also be used as a water retainer in agriculture sector due to its water holding capacity.