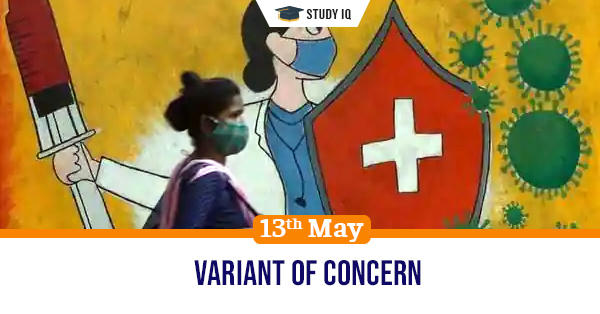 Variant of concern
Date: 13 May 2021
Tags: Miscellaneous
Issue
The World Health Organisation has announced that the Indian variant of the Wuhan coronavirus as "global variant of concern".
Background
The SARS-CoV-2 virus is mutating rapidly, giving rise to newer and more threatening varieties across the globe.
Details
The UK had designated the B.1.617 variant as variant under investigation. It has spread to more than 17 countries, forcing them to put travel restrictions.

A variant of interest becomes variant of concern if:
It increases its transmissibility

Epidemiology witnesses detrimental change

Increase in virulence capacity

Decrease in effectiveness of public health and social measures, vaccines, therapeutics etc.
WHO classifies a variant as variant of concern after consulting with WHO SARS-CoV-2 Virus Evolution Working Group.
Role of the variant
The Indian government had acknowledged the existence of the double mutant variant and linked it to the surge in the cases.

Earlier, the government had not accepted the presence of the strain citing lack of enough samples to establish a link with case surge.
Emergence of variants
Virus variants are those that have one or more mutations to separate it from other strains in circulation. These mutations help it to survive.

The SARS- CoV variant has been able to mutate faster due to the rate at which it is infecting people and replicating.

The E484Q and L452R were the two previous independent mutations of the virus, which together combined to form the B.1.617 variant.
Classification
The variant of interest (VOI), variant of high consequence and variant of concern (VOC) are the ways in which US Centers for Disease Control and Prevention (CDC) classifies viruses.