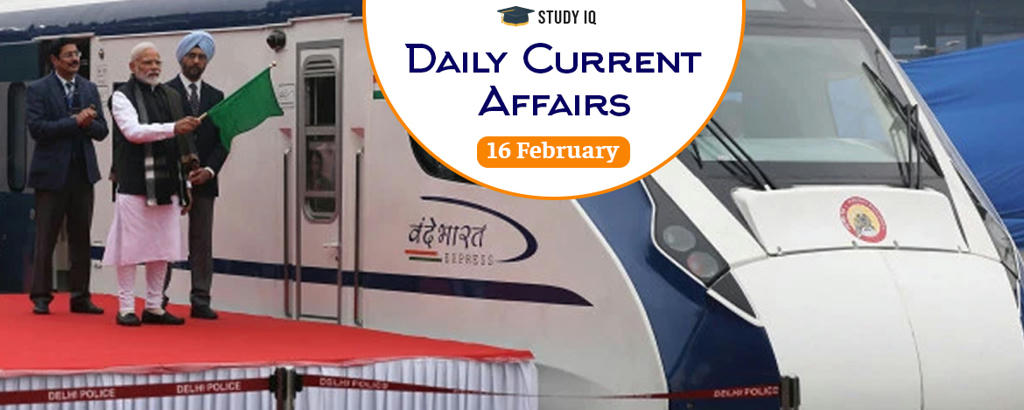 Vande Bharat Express: India's first semi-high speed train launched
Date: 16 February 2019
Tags: Miscellaneous
Prime Minister Narendra Modi flagged off 'Vande Bharat Express' (formerly known as Train 18) from New Delhi Railway Station. It is India's first semi high speed engineless train that will run on New Delhi-Kanpur-Allahabad-Varanasi route. Speed, safety and service are prime hallmarks of this train. This train will cover distance between New Delhi and Varanasi in 8 hours at speed of 160 kmph and will run on this route all days except Mondays and Thursdays.
Vande Bharat Express (Train18)
It has been indigenously designed and manufactured by Integral Coach Factory (ICF), Chennai, a Railways Production unit, under Government vision of "Make in India".

It is first long-distance engineless train i.e. without separate locomotive (engine) and is driven by self-propulsion module. It is touted as next generation Shatabdi Express and will connect metros with important cities.

Its major systems of train have been designed and built in India. Its performance, safety and passenger comfort standards are of global standards and that to less than half of global prices.

It is at present country's fastest train with maximum speed of 160 kmph. It will cut travel time by 15% compared to Shatabdi Express.

It has 16 coaches with chair car type configuration with two executive class chair cars and 14 chair cars. It is fully air-conditioned train and is equipped with CCTV cameras.

It has two executive compartments in middle with 52 seats each and trailer coaches have 78 seats each.

It has aerodynamically designed driver cabins at both ends for quicker turn-around at destinations. Besides they also have insulation to keep outside heat and noise to very low levels.

Every coach has pantry with facility to serve hot meals, hot and cold beverages. It has soft lighting, automatic doors, footsteps and GPS-based audio-visual Passenger Information System.

It has intelligent regenerative braking system in all coaches for better energy efficiency as it can save up to 30% of electrical energy, thereby making it energy and environment efficient.

Footstep in coach's doorway of this train slides outward when train stops at station enabling passengers to board or deboard safely with comfort.

It offers some features to enhance passenger comfort which include inter-connected fully sealed gangways, automatic doors with retractable footsteps.

It also has onboard Wi-Fi and infotainment, and modular toilets with bio-vacuum systems. It also has provision of Divyang-friendly facilities.

It also features rotational seats which can be aligned in direction of travel (executive class), roller blinds and diffused LED lighting, and disabled-friendly toilets.