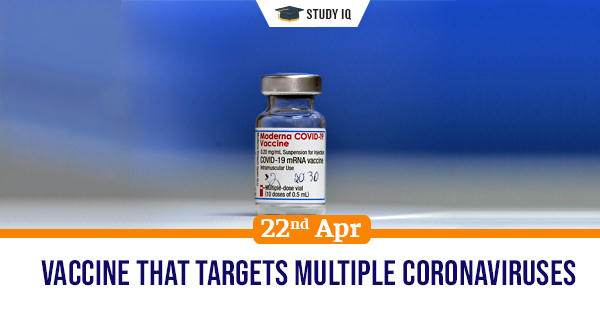 Vaccine that targets multiple coronaviruses
Date: 22 April 2021
Tags: Miscellaneous
Issue
Scientists have developed a new type of vaccine that offers protection against not only existing but also future strains of SARS-CoV-2 coronavirus.
Background
Mutations in coronavirus are the biggest threat against offering universal protection. The new vaccine can solve a major concern.
Details
The vaccine is very cheap as it costs only about $1 and its early studies against animals have shown promising results.

The new vaccine-production platform involves producing DNA that directs the production of a piece of the virus.

This DNA has the capacity to instruct the immune system how to start an immune response against the virus.

The vaccine targets the fusion peptide, which is a part of virus's spike protein. This compound has been observed in all coronaviruses and does not differ among different varieties.

Currently developed vaccines do not target the fusion peptide but focuses only the entire spike protein, or just the receptor binding domain (RBD).

RBDs undergo frequent mutations that reduce the effects of anti-bodies that particularly target the RBDs.
Working
Vaccines such as mRNA instruct the creation of a part of the virus by delivering instructions for creating the spike protein of the coronavirus.

The belief is that when the real virus attacks, the immune system will be able to recognise the spike and produce antibodies to counter.

In the current technique, after synthesising of DNA for fusion peptide, it will be inserted into another small circle of DNA known as plasmid.

The DNA plasmid is then inserted into bacteria so that it can reproduce. The E coli bacteria are used in this method.
Way ahead
Researchers believe that further tests and studies are needed before it can undergo human trials and regulatory approvals.