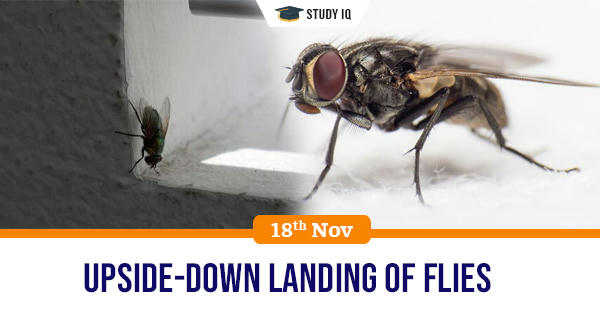 Upside-down landing of flies
Date: 18 November 2019
Tags: Miscellaneous
Issue
Researchers studying insect behaviour have been successful in identifying the reasons and movements that allow a fly to land upside-down.
Background
Nervous coordination is brought about by means of Stimuli Receptors of nervous system which is the quickest way of communication CNS Effectors in the body of an animal by electro-chemical messages called nerve Response impulse.
Details
The team of researchers lists out four steps that take place in the complex process which includes upward acceleration towards the landing site and then based on visual inputs it begins to rotate - pitch and roll.

It then flings all six legs and prepares to land, and in the final stage does a leg-assisted body swing and lands firmly.

It involves visual, neurobiological and gyroscopic inputs. The researchers concluded that they have to initiate deceleration at 40 microseconds speed.

If the fly missed initiating the landing response within this window, it ended up colliding with the substrate.

To orient itself in an inverted position, a fly can either perform a roll rotation or a pitch rotation or a combination of both.

The study will help to gain insights into how the nervous system acquires and integrates inputs from multiple sensory modalities to execute a fast but precise behaviour.