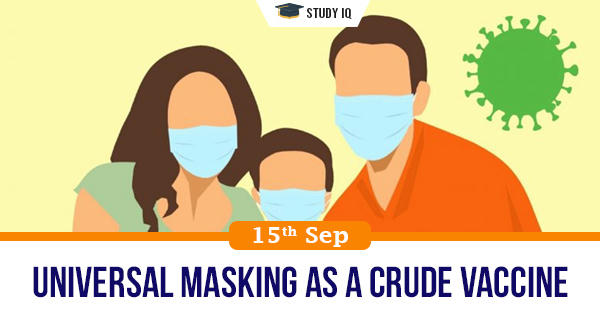 Universal masking as a crude vaccine
Date: 15 September 2020
Tags: Miscellaneous
Issue
A few researchers are putting forth a hypothesis that supports universal mask wearing. They consider it to be a crude form of vaccine against the infection.
Background
The idea of allowing people to get naturally infected with novel coronavirus in order to achieve herd immunity even before safe and effective vaccines become available has now been dismissed.
Details
According to this hypothesis, universal mask wearing decreases chances of infection, and, if infected, decreases the amount of virus particles (inoculum) a mask-wearer is exposed to thus causing only asymptomatic infection or mild COVID-19 disease.

Exposure to the virus without the unacceptable consequences of severe illness through universal masking can lead to greater spread of immunity in the community thus slowing down the spread of the virus eventually.

Depending on the type and fit of masks common people use, the amount of virus particles a person is exposed to may be reduced even if infected.

While much attention has been on the role of masks in reducing or preventing the spread of virus from an infected person to others, the possibility of a healthy mask-wearer getting exposed to only smaller amounts of virus and the possible effects of such exposure has not received equal attention.

A growing body of virological, epidemiological, and ecological evidence suggests that universal masking can reduce the severity of disease among people who do become infected.

In a study of healthy participants exposed to wild-type influenza A virus, more severe symptoms were seen in those exposed to higher amounts of the virus.

Since universal masking decreases viral inoculum leading to increase in asymptomatic infection that induces strong T cell immunity for some duration, it could act as a crude vaccine until we get to a real vaccine.