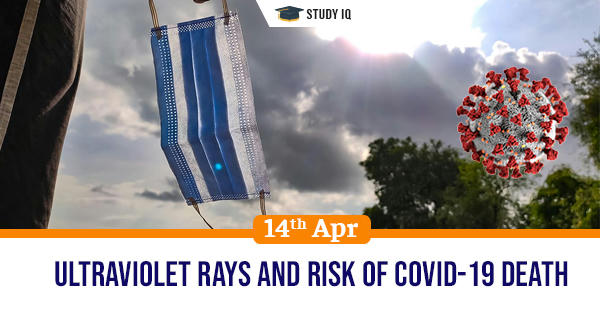 Ultraviolet rays and risk of covid-19 death
Date: 14 April 2021
Tags: Miscellaneous
Issue
Researchers have tried to relate Covid-19 deaths and ultraviolet rays by studying levels of ultraviolet radiations in different areas.
Background
There have been many studies to understand effects of environment on Covid-19 deaths. This is one among many emerging details.
Details
The study indicated that people living in areas with the highest UV level exposure had a lower risk of dying from Covid-19 in comparison to those with lower levels.

Ultraviolet rays forms about 95 per cent of the Sun's UV light and can penetrate more deeply into the skin.

The study could not determine the relation between reduction in deaths and higher levels of vitamin D.

The study was able to find that nitric oxide emitted from the skin due to exposure to UV rays was inhibiting replication of SARS CoV-2 virus.
Previous studies on sunlight
Earlier studies have found a link between increased sunlight exposure and decreased chances of cardiovascular diseases such as heart attacks.

This is significant because heart disease was one of the major reasons for deaths as a result of Covid-19.