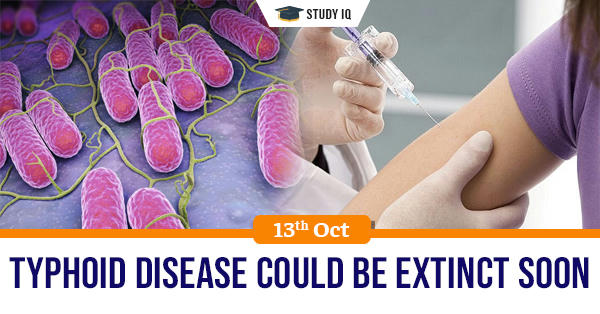 Typhoid disease could be extinct soon
Date: 13 October 2019
Tags: Miscellaneous
Issue
A new vaccine against typhoid has been approved by WHO. This paves way for universal immunisation from the disease which can soon make it extinct.
Background
About one-third of global vaccines are manufactured and developed in India. Earlier it would be through license manufacturing of foreign formulas but now the trend has shifted towards research and development locally.
Details
The WHO has approved a vaccine against typhoid fever, called Typbar TCV, short for typhoid conjugate vaccine. It is the only vaccine deemed safe enough for use in infants starting at 6 months of age.

This vaccine is the first conjugate vaccine , a vaccine in which a weak antigen (of the typhoid germ) is attached to a strong antigen (from the tetanus germ) to elicit antibody responses against a bacterial disease (in this case typhoid) that affects up to 20 million people annually.

This vaccine has been extensively tried on humans and found to be more effective in comparison to its competitors.

Till recently vaccine against typhoid was made by injecting live, but grossly weakened typhoid germs into the human body, provoking the body to mount immunochemical called antibodies.

Scientists found that it was not good to use live germs, since there are unwanted side-effects. Hence, they started using an important molecular component (the polymer that coats the surface of the germ) which can elicit the same antibody from the injected host, but the treatment was not as effective or strong as we want.