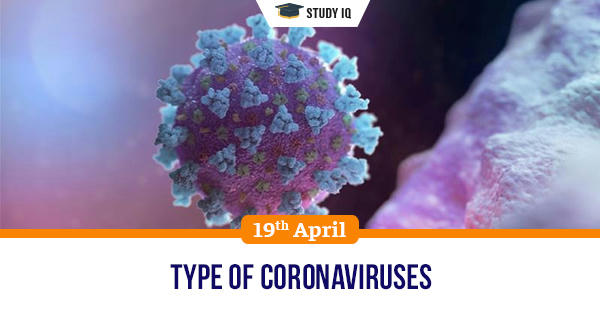 Type of Coronaviruses
Date: 19 April 2020
Tags: Miscellaneous
Issue
While there are hundreds of coronaviruses that cause diseases in animals such as pigs, camels, bats and cats, till date seven different types of coronaviruses have been identified that infect humans.
Background
Coronaviruses are a large family of single-stranded RNA viruses that cause diseases in animals and humans. In humans, the viruses usually cause mild to moderate upper-respiratory tract illnesses such as the common cold.
Details
In the last two decades, more aggressive coronaviruses have emerged that are capable of causing serious illness and even death in humans. These include SARS-CoV, MERS and now SARS-CoV-2.

These viruses are named so because of spikes found on their surface that give them the appearance of a crown when looked through an electron microscope.

Broadly, coronaviruses (CoV) are the largest group of viruses that belong to the Nidovirales order, which includes Coronaviridae among three others.

Coronavirinae are one of the two subfamilies of Coronaviridea, with the other being Torovirinae. Coronavirinae can be further subdivided into alpha, beta, gamma and delta coronaviruses.

While coronaviruses from all four categories can be found in mammals, bat coronaviruses are the likely gene source of alpha and beta coronaviruses, while avian coronaviruses are the probable gene sources of gamma and delta coronaviruses.

While there are hundreds of coronaviruses, there are seven that we know can infect humans. Out of the seven, two are alpha coronaviruses (229E and NL63) and four are beta coronaviruses (OC43, HKU1, MERS and SARS-CoV).

Alternatively, coronaviruses may be classified based on serology (monitoring the immune system's antibody response to viral exposure) as per which they can be divided into three groups from I to III. Groups I and II refer to mammalian coronaviruses and Group III includes avian coronaviruses.