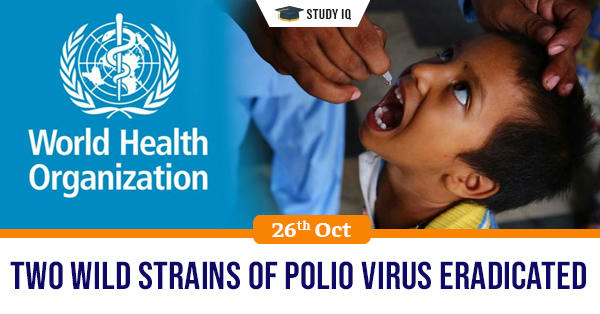 Two wild strains of polio virus eradicated
Date: 26 October 2019
Tags: Miscellaneous
Issue
The World Health Organisation (WHO) has announced that the wild TYPE 3 poliovirus has been eradicated completely from the world.
Background
The achievement of polio eradication will be a milestone for global health. Commitment from partners and countries, coupled with innovation, means that of the three wild polio serotypes, only type one remains.
Details
Type 2 was eradicated back in 2015 and the last case of type 3 polio surfaced in northern Nigeria in 2012 and the virus hasn't been seen since. A poliovirus can be considered eradicated if it hasn't been detected for three years.

There are three individual and immunologically distinct wild poliovirus strains: wild poliovirus type 1 (WPV1), wild poliovirus type 2 (WPV2) and wild poliovirus type 3 (WPV3).

All three strains are identical as they cause irreversible paralysis or even death. But there are genetic and virological differences, which make these three strains three separate viruses that must each be eradicated individually.

Today, only type 1 remains at large , in Afghanistan and Pakistan. If it's eradicated, polio will join smallpox as the only two human epidemics wiped off the face of the planet.

In the two countries where the type 1 virus is still endemic, Pakistan and Afghanistan, ongoing political conflicts continue to challenge the eradication efforts.
Vaccine-derived polioviruses
Vaccine-derived polioviruses (VDPVs) are rare strains of poliovirus that have genetically mutated from the strain contained in the oral polio vaccine.

The oral polio vaccine contains a live, attenuated(weakened) vaccine-virus. When a child is vaccinated,the weakened vaccine-virus replicates in the intestine and enters into the bloodstream, triggering a protective immune response in the child.

If a population is seriously under-immunized, there are enough susceptible children for the excreted vaccine-derived polioviruses to begin circulating in the community.

If the vaccine-virus is able to circulate for a prolonged period of time uninterrupted, it can mutate and, over the course of 12-18 months, reacquire neurovirulence. These viruses are called circulating vaccine-derived polioviruses (cVDPV).