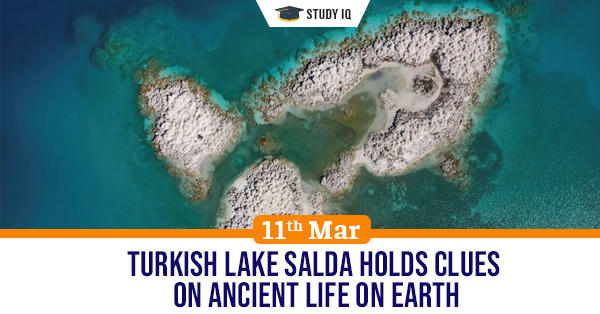 Turkish lake Salda holds clues on ancient life on Earth
Date: 11 March 2021
Tags: Miscellaneous
Issue
NASA has declared that minerals and rock deposits near Lake Salda are similar on earth to those around the Jezero Crater where Perseverance spacecraft has landed.
Background
NASA's Perseverance spacecraft had landed in Jezero crater on Mars to study its geography. The Jezero crater is believed to have been filled with water once upon a time.
Details
Information gathered near Lake Salda may help the scientists to search for traces of microbial life preserved as fossils in lake sediments.

Scientists have assumed that sediments around the lake were formed from bacterial mounds known as microbialities.

The researchers handling Perseverance are trying to locate these microbialities in Jezero crater. If these microbialities are discovered, then they can assume microbial life.

Researchers will use beach sediments from Salda and compare them with sediments procured near the edges of Jezero crater to see if carbon and water are present.

Rock samples drilled near Jezero crater will be stored and delivered to Earth by future missions.
Jezero crater
Jezero is a crater on Mars which once may have been flooded with water. The crater contains some fan-delta deposits.

The lake in the crater may have been formed when valleys were forming on Mars.

A study of the delta helped in concluding that the lake inside the crater was formed during a time in which there was continuous surface runoff.