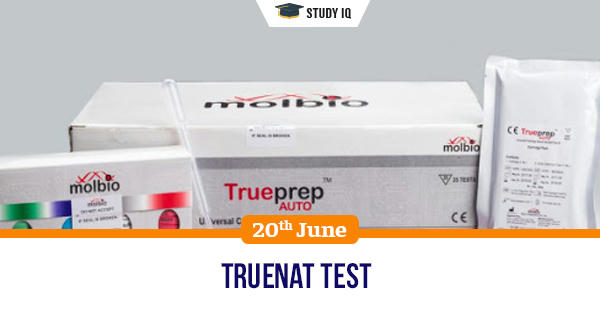 TrueNat test
Date: 20 June 2020
Tags: Miscellaneous
Issue
The Indian Council of Medical Research (ICMR) approved the use of TrueNat machines for carrying out confirmatory tests for Covid-19 disease.
Background
These machines, which were originally developed for detecting tuberculosis in patients a few years ago, were being used in the current coronavirus pandemic only for screening patients.
Details
PCR is a method to capture a specific gene from the DNA in the swab sample, and multiply it through a series of chemical processes so that it can be detected using fluorescent dyes.

Most modern PCR tests, which are used for detecting other kind of viruses as well, work in real time. The result is visible even while the chain reaction is happening.

The SARS-CoV-2 virus, which causes Covid-19, does not have a DNA, but an RNA molecule. The reverse transcription process (the RT in RT-PCR) converts the RNA into the DNA molecule before the gene can be captured in the test.

Earlier TrueNat could only identify the E-gene in the SARS-CoV-2 virus. This is the gene that helps the virus build a spherical envelope around it. At this point, TrueNat machines were used as a screening test.

But the new machines are now equipped to detect the RdRp enzyme found in the virus RNA, and hence the ICMR has ruled that these tests can be treated as a confirmation for the presence of the novel coronavirus.

The big difference is that the machine is portable, and tests with it cost much less than the traditional RT-PCR tests. That make it extremely useful for deploying in interior districts and faraway places from where collecting and sending swabs for testing in big cities is a difficult task.

Unlike in the conventional RT-PCR tests, the reagents do not require extreme temperatures in this process, and the quantity of swab required for testing is also much less.

The heart of the machine is designed to detect different kinds of infections. It is the chip that is specific to every infection. The company took 15 days to design the chip which had all the viral load diagnosis for detecting Coronavirus.

Conventional RT-PCR requires RNA extraction and analysis to be done in two different rooms backed with cold storage and trained experts handling laboratory designed equipment. TrueNat on the other hand is designed primarily to work at remote locations, and considered as 'last mile diagnostics'.

The machine is portable and can be carried in a briefcase, is battery operated with one charge lasting ten hours.